Event Marketing Challenges
Since the onset of Covid-19, there has been a dramatic turn of events due to realignments and uncertainties around the pandemic. And the most hit facet of event marketing during the pandemic was live events. Consequently, event marketers had to suddenly shift to virtual and hybrid events.  
However, with the rollout of Covid-19 vaccines in most countries and the relaxation of restrictions around the globe, we cannot expect the challenges experienced over the last two years to remain the same.  
This is especially true owing to the 2022 State of Event Management Report findings, including the return of live events, growing demand for event marketing, and trends and challenges surrounding the events industry. For this reason, it would be prudent to take a look at the top five event marketing challenges affecting the industry today and how to solve them.  
1. The return of live events
As an event marketer, you're probably aware that live events are returning, thanks to the easing of the Covid-19 pandemic restrictions. With fewer restrictions expected this year because of the reinforcement of stringent safety measures, the rebirth of in-person events isn't a surprise element but an indication of the preference for live events over virtual or hybrid models.  
According to the 2022 State of Event Management Report, 88% of event professionals said that in-person events are crucial to the success of their company.  
Why is it a challenge?
After two years of virtual and hybrid events, it's a challenge marketing to people who are now used to digital events. A contactless operating framework has been the norm in the last two years, meaning that digital interactions are now a part of people's daily lives.
What's the remedy?
While you cannot take away the benefits of live events such as in-person interactions, client acquisition and retention, and the potential to grow, virtual and hybrid events are here to stay – mind you, we're living in a digital age. So, it would be best to balance the two by focusing small, efficient content on virtual events and only running big events live. Leads are more likely to attend a live event if it's only big enough to offer them substantial benefits.
2. Adopting technology in event marketing processes
In 2022, most event marketers agree and understand the significance of event automation in improving efficiency and saving costs. Incorporating technology into our events can streamline event marketing operations and overall planning of the events, saving us from spending countless hours on manual processes.
Why is it a challenge?
Despite the opportunity to automate event marketing operations, less than 50% of event professionals said six or more of their processes are automated. So, while there is huge potential, many event marketing processes are not automated enough.
What's the remedy?
Forget about the manual tasks and get digital with the right event marketing software, such as Sweap's Event Efficiency Platform. Automation will save you from manual hassles and increase efficiency in your processes.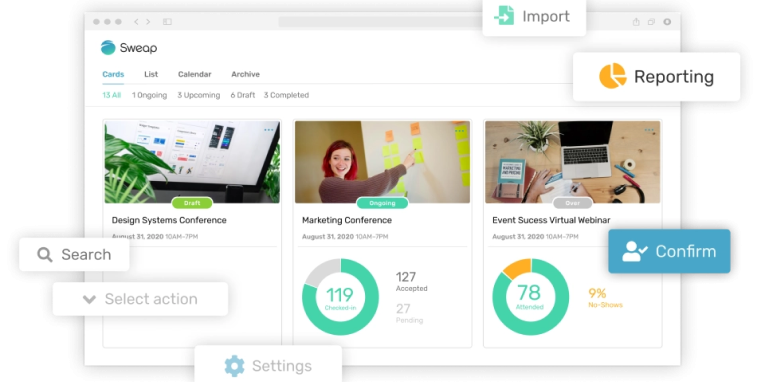 3. Choosing the most effective event marketing channels
You always have numerous channels to market your event as an event marketer. The myriad opportunities present a challenge in choosing the right channel. And there should be no compromise about this; you have to pick the most effective method to drive more signups. Social media and email campaigns are still reported to dominate the event marketing sector.  
Why is it a challenge?
While social media and email marketing are still the most preferred channels for event marketing, it's not a secret element that they're oversaturated. Clients are increasingly bombarded with promotional emails, while social media isn't only expensive but highly competitive–brands are competing for users' attention every day.
What's the remedy?
Beyond social media and email, the community-based strategy is rapidly rising, coming as the third most preferred event marketing channel after the two. This is primarily attributed to its wide-reaching scope and many benefits, including saving costs, making advance ticket sales, generating 'buzz' or 'hype' around the event, and improving overall brand visibility. A community-based event marketing approach will continue to grow in 2022 and beyond.  
4. Tracking event marketing campaigns and demonstrating their ROI
Content marketing continues to dominate as the most preferred form of marketing for businesses in 2022. However, another contender is rapidly rising in the ranks – live events.
Over many years, tracking and measuring the performance of campaigns has been a top marketing challenge globally. You're probably not surprised by this as an event marketer, since identifying the right metrics for a campaign and tracking them is always on top of marketers' minds. And even if you're already getting it right, you at least want to improve, right?
Why is it a challenge?
Effectively tracking the performance of event marketing campaigns has been a long-standing concern among marketers. And with live events being one of the most important marketing channels and so much marketing budget going into the events sector, the need for proving the success of these events and their attribution to business goals is growing.
What's the remedy?
Thanks to data analytics, event marketers have more information than ever before about their target audience. Capitalize on technology to utilize this information in generating the key performance indicators (KPIs) and effectively track the progress of your event marketing campaigns. Utilizing an event marketing tool that can show the success of these events based on data is paramount.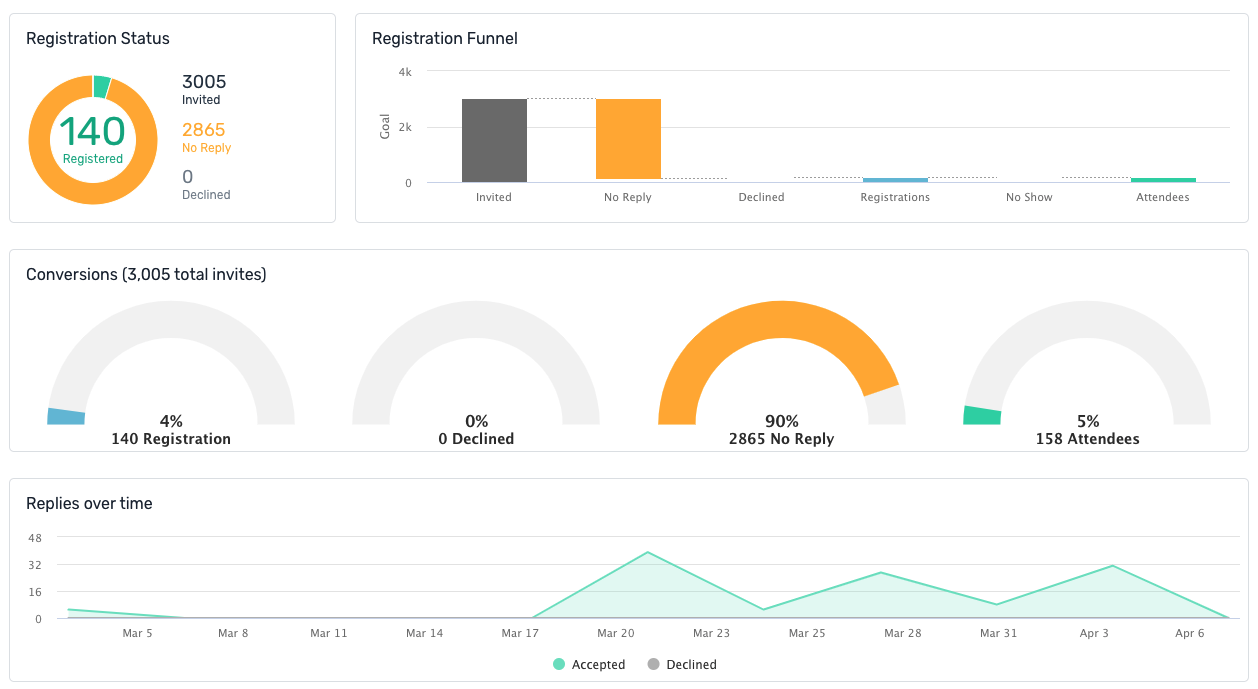 5. Harnessing the power of brand loyalty
Meeting deadlines, driving registrations, spending endless hours planning and executing – all these describe the life of today's event marketers. Lots of activities are involved in the run-up to and after an event. However, if you reflect on these activities, you'll realize that these processes are recurring and counter-intuitive. You always start from nearly scratch every time.
Why is it a challenge?
Obviously, there is no real brand loyalty as your attendees only remember you right before an event or in the last days leading to an event. You have high traffic on your website or experience higher engagement levels on the social networks only in the run-up to the event. That makes it even more difficult to successfully navigate the international markets, since you have no solid base of local brand advocates.
What's the remedy?
If you don't want to start from scratch every time, you need to build a relationship with your attendees. That even emphasizes the need to embrace a community-based event marketing approach not only because of its wide-reaching potential but to cultivate relationships with your audience through one-on-one level of interactions.  
You can also integrate an element of user-generated content (UGC) into your marketing channels, whether social or email campaigns. Several studies and stats have shown that UGC can significantly influence people's decisions and create attraction.  
Wrap up
As you can see, there are serious challenges when it comes to marketing events, yet still, event marketing is on the rise. Event marketing is increasingly becoming the most important marketing channel for companies. And as an event professional, you don't want to miss out on new marketing opportunities.
New challenges mean that marketers have to adapt, hire the right people, educate existing ones, and most importantly, add events to their overall marketing strategy. Adding technology to your event marketing will help automate your processes, create efficiency, and step up your event marketing game. Remember, email automation is just the tip of the iceberg.
Request for a free trial of our Event Efficiency Platform to see how we can help automate and simplify your event marketing processes.
Recommended for you