From goal setting, budgeting, coordination up until execution, lots of activities are involved in the run-up to an event. Unfortunately, these activities present challenges to event professionals around the globe. However, as a result-oriented professional, you don't want these challenges to be a roadblock to the success of your event. 
Event planners often find it difficult to deliver their job without using the right planning tools. Whether you are planning a big or small event, managing all the elements can be tricky. One of the critical features of a successful event is using a good event planning tool. 
What are event planning tools?
Event planning tools consist of project management tools, communication tools, event management tools, and apps. These tools are also usually online software or platforms created for assisting in event planning. Event planning tools help you plan and manage a fantastic offline or online event. 
10 Best Event Planning Tools
There are necessary steps to take when planning an event. Event planning tools help you take those steps with ease without wasting time. We've prepared this comprehensive guide with a step-by-step list of the ten best software tools to ensure you successfully plan your events.  
 
We want to introduce you to our top 10 event planning tools, based on the 10 stages of your event planning process: 
1. Event Concept Creation 
Defining your goals and objectives is the first step in planning an event. Many event planners jump right into planning without considering this important step. When you set goals and objectives for an event, planning and managing it becomes easy. 
Tool 1 for Event Planning: Miro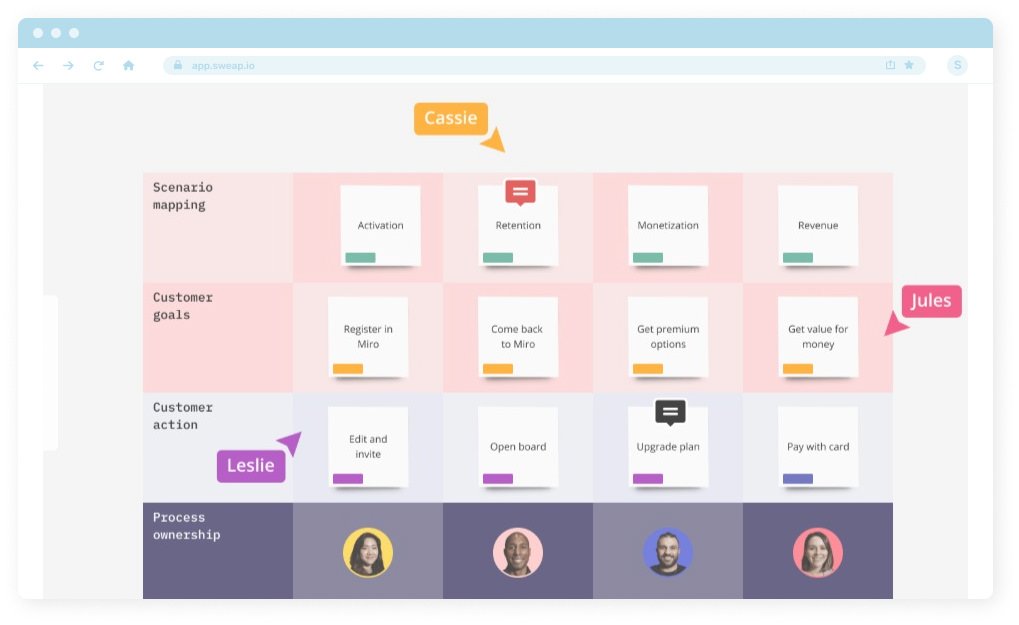 Miro is an online collaboration whiteboard tool for small to middle-scale businesses. Its tools allow humans to meet and create together anywhere in the world. You can, indeed, use Miro for online brainstorming, design thinking, and structuring. You can also use it for concept creation, cross-team idea collections, strategy, planning, etc. 
The tool features a digital whiteboard that enables research, brainstorming, structuring, and discussion among remote teams. While it allows sharing of the boards and cross-team ideation, you can also export the boards as PDF, JPG, Google Docs, among other options. 
On the flip side, this versatile tool isn't the most affordable, especially for large work teams, since it charges per user and not per group. Its free version also allows only three boards per user and is exclusive of certain premium features like voting. 
Miro is crucial for forming event concepts/ideas and setting goals, since it allows creative sessions such as research, prototyping, brainstorming, sketching, and more. And the best part is that Miro is integrated into our Event Efficiency Platform. 
Advantages 
Easier collaboration 

Standardized and centralized communication 

Enterprise-grade security 
Disadvantages 
Screen sharing has some bugs 
2. Define Your Target Group With Event Planning Tools 
Your target audience is consumers who want your product and services. They are a specific group of people who should see your ad campaigns. Further, factors that may dictate the target audience, including income, age, location, gender, interests, etc. 
Tool 2 for Event Planning: HubSpot CRM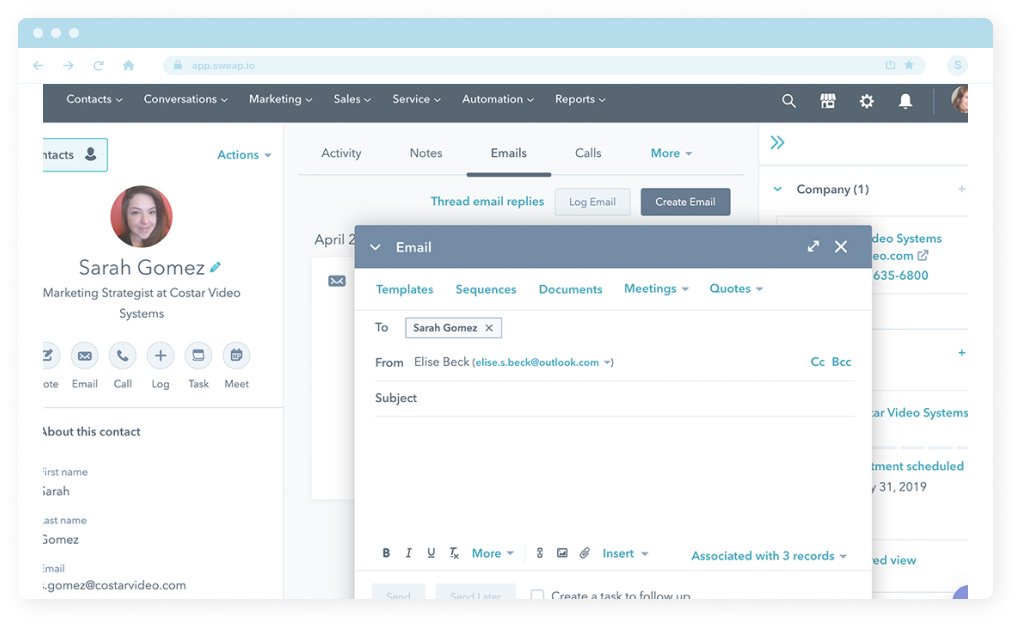 HubSpot is a CRM platform that allows you to keep track of interactions and leads about customers or potential customers. It then enables you to organize contacts, make lists, and understand your target audience and what interests they have. 
HubSpot helps you manage your interactions with clients and prospective clients using various product features such as marketing, service, and operations hubs. 
HubSpot CRM has one of the most comprehensive free plans on the market. In fact, its free option surpasses some paid CRMs out there. On the other hand, its paid plans are expensive, especially for small and mid-sized businesses operating on limited budgets. HubSpot CRM can help you define and understand who exactly your target audience is to create lasting relationships with them and improve their loyalty. 
Advantages 
Free to use 

It comes with social management features 

Website integration 
Disadvantages 
Difficult to change templates 

Limited reporting 
3. Create Powerful Guest Lists With Event Planning Tools 
Creating an event guest list can be a tedious task. You need to estimate the number of people that will attend your event. In fact, knowing who to invite and enforcing this guest list is essential. Managing your guest list is a critical factor in a successful event. 
Tool 3 for Event Planning: Sweap Guest List
Forget about manual spreadsheets and go digital with our Sweap Guestlist Management software. The tool allows you to import your guest lists and capture and have them stored in one place. It's a flexible, powerful, and yet simple platform that automatically syncs with your CRM tools, offers real-time analytics, and is easily accessible. 
You can manage event invitations and attendance online. The software keeps your data up-to-date, brings order, and takes care of duplicates and saves you from time-consuming data entries. 
The Sweap Guestlist Management tool is easy to use, provides up-to-date information (you can update it any time, from anywhere), and offers actionable insights from your data. Save yourself from the hassles of creating manual paper spreadsheets and employ this tool to start creating powerful guest lists and make informed decisions backed by your collected data. 
Advantages 
Latest and easy to use 

Seamless collaboration 
Disadvantages 
4. Create Visuals and Creativity for the Event 
Graphic design is an indispensable part of the event planning process. You need strong visuals to draw people's attention and increase your sign-ups. Event planners may want to create a concept that will excite attendees. Visuals interest the audience, engage and keep them learning. Using a solid visual message can, indeed, make your event remarkable. 
Tool 4 for Event Planning: Canva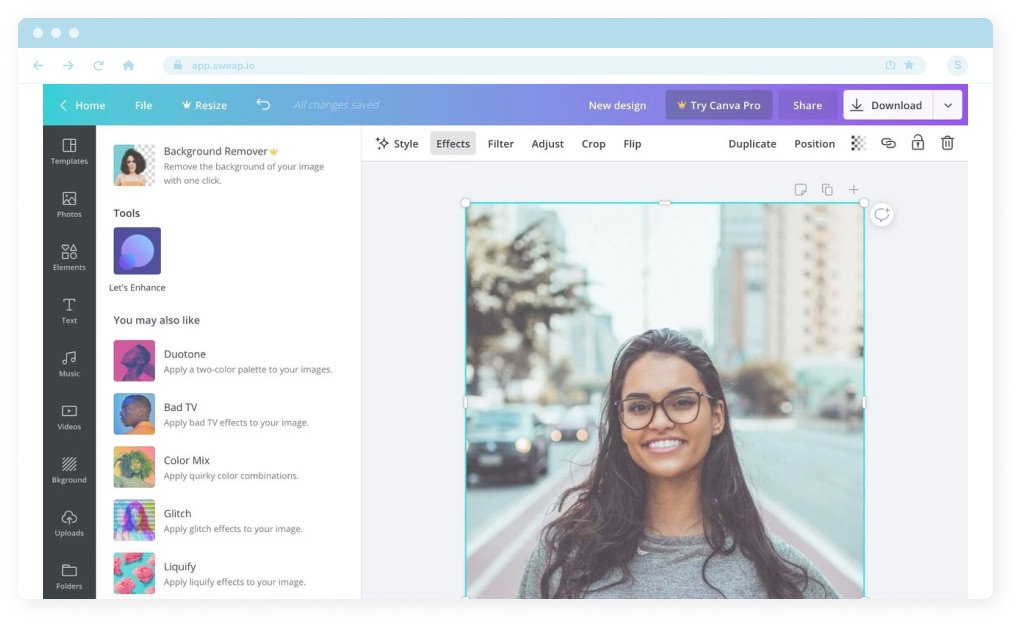 Canva is a free online graphic design tool for creating posters, infographics, social media posts, and any other kind of graphics you may need. It also has several premade layouts, filters, images, and fonts you need in creating professional graphics for your event. Features include text animations, video resize, transitions, image cropper, etc. 
And the most interesting part is that Canva is free. However, you may not achieve your desired uniqueness as most of its images and templates appear a bit generic, probably due to its millions of users. For more unique and strong visual messages, you can consider Adobe, which is highly customisable but may require more time to learn. 
Advantages  
Ease of use 

Free design platform 
Disadvantages 
No source file and local file storage 
5. Market the Event 
While your event promotion should get in front of as many eyes as possible, they should be directed to the right people, at the right time, and with relevant information to increase turnout. Even if you're planning your brand event, ensure you multitask and organize it well. Besides putting everything in order, your guest must get the needed satisfaction. Also, note that effective communication is essential, and for that, you need an event planning tool. 
Tool 5 for Event Planning: Sweap Email Communication Tool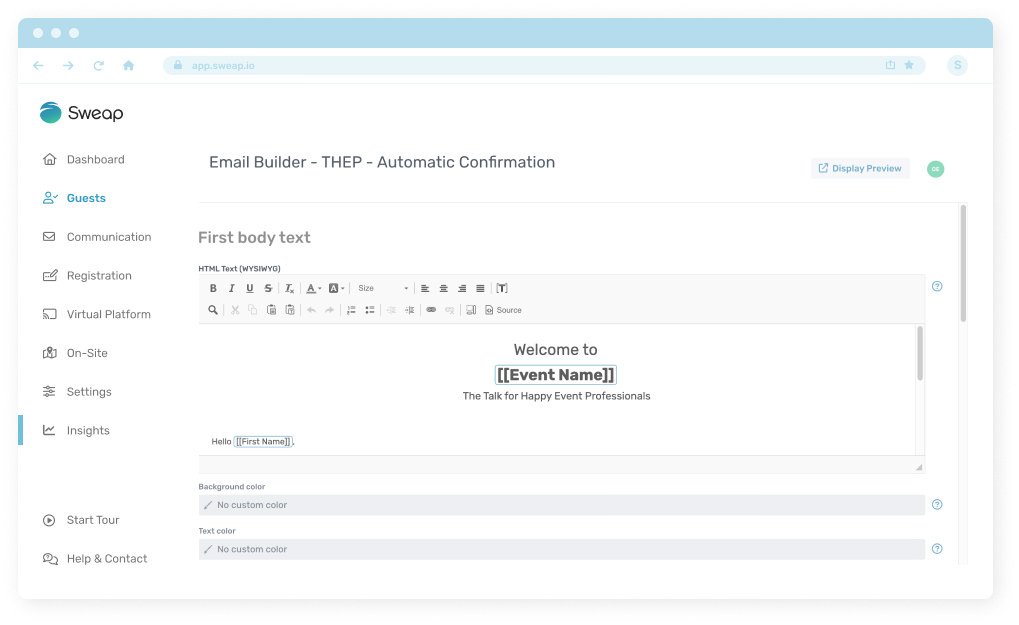 The Sweap email communication tool can come in handy at this stage to help draw the attention of your target group and drive sign-ups through automated and personalised email campaigns. 
Not mentioning the variety of beautiful designs and integrations that it offers. Save time by automatically creating personalised email messages to step up your event marketing. Planning and scheduling emails to market an event has never been easier with the Sweap email communication tool. 
You can run your events well and drive guests through the marketing funnel with this tool. The software comes with excellent features. Thus, ensuring effective communication across every channel. These include insights & reporting, advanced email and website builder, virtual event platform, and event audience segmentation. 
Advantages 
It helps you personalize each message 

Attractive email designs 
Disadvantages 
6. Host the Event 
Most event managers say this is one of the most difficult event planning stages. However, with the right software, hosting events, whether in-person or online events, can prove not to be daunting at all. Everyone is always anticipating this moment. The tool below can help you host a successful virtual event. 
Tool 6 for Event Planning: Sweap Virtual Event Platform/ Sweap On-site Feature
Thrill your guests with Sweap's virtual event platform. It's one of the excellent tools combined in a single platform. The software is ideal for any event size, type, and format. You also have the opportunity to choose from several available integrated widgets. These include live streaming, video calls & breakout sessions, surveys, chats, virtual networking, or collaboration on digital whiteboards. 
Sweap's all-inclusive Virtual Event Platform for hosting virtual events has many features and capabilities to streamline and offer the best event experience for all your attendees. 
Also, if it's an in-person event, Sweap provides smooth on-site guest check-in features that allow guests to have a memorable first impression. And on top of providing excellent reception, you would easily manage the event, instantly know who actually is in the venue, collect and store valuable data on the event. Your attendees will get a seamless check-in and will start enjoying the program at once. The tool features QR codes & wallet to ensure your guest reception becomes convenient and stress-free. Also, everything is automated and paperless. 
 
Advantages 
Endless integrations 

Easy to manage guest entries 

Mobile, flexible, and fast 
Disadvantages 
7. Engage Participants at the Event 
Indeed, event engagement is vital to the success of the program. One thing is that technology usually smoothens that engagement. However, you need to choose a technology that drives engagement and enhances your guest's experience instead of distracting them. 
Tool 7 for Event Planning: Slido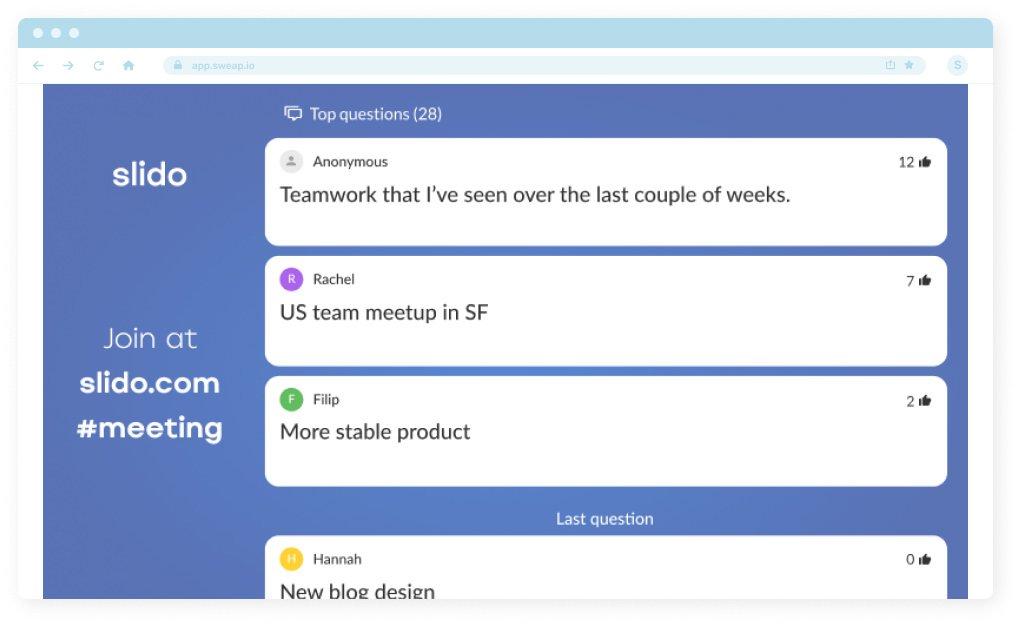 Slido is a user-friendly polling and Q&A platform. It has all the things you need to engage your audience, get their attention, and make them feel connected. With Slido, you can harness your events by establishing a connection between the audience and the speakers. Features include event privacy, feedback surveys, question moderation, etc. 
The tool allows you to engage participants, record everyone's input and make all the attendees feel connected. And while it increases engagement, its anonymous questions have often raised eyebrows, as sometimes they're controversial. Slido can completely be integrated into our Event Efficiency Platform to increase event engagement level for better impact. 
Advantages  
Easy setup 

Safe and secure 

Easy access for attendees through QR-Code 
This tool is currently free 
Disadvantages 
8. Event Planning Tools for Live-Streaming for a Virtual and Hybrid Event 
Unleash the potential of your virtual and hybrid events through live streaming. You can also extend your in-person experience online. A virtual venue allows your attendees to connect to the complete occasion, whether they're in-person or remote. 
Tool 8 for Event Planning: Ecamm Live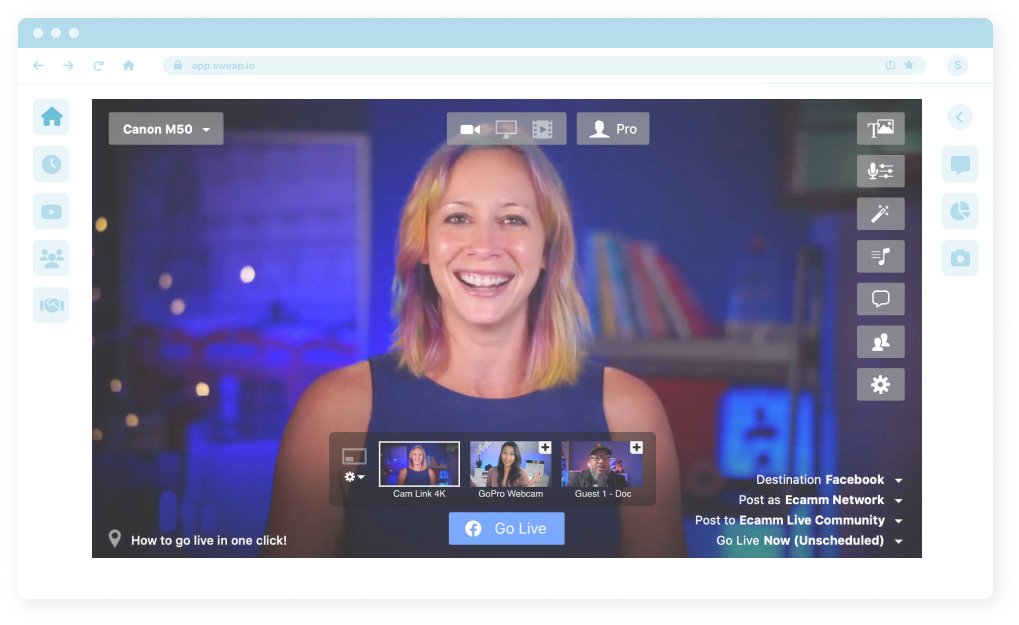 Ecamm Live is a great and intuitive live streaming tool and video production. You can use it to get a professional, simple, and customizable video creation. Besides, you can also bring on interview guests, drop-in video clips, share your screen, etc. 
You will find an essential event planning tool that allows you to seamlessly livestream broadcasts right from your Mac. Ecamm Live is an exemplary and intuitive streaming platform that is customisable and enables 4k streaming, which is advantageous. Plus, it has a free trial plan. 
On the other hand, while Ecamm enables some third-party integrations, it does not allow some other integrations, such as Vimeo. Ecamm Live is still a great option for successful live-streaming of events. 
Advantages 
Helps create pre-produced videos and professional live stream broadcasts fast and at ease 

Enable you to add titles, logos, and graphics 

Great documentation 
Disadvantages 
Live streaming skills needed 
9. Event Planning Tools for Virtual Networking at Virtual Events 
Whether offline or online, networking with people could be nerve-wrenching and exciting at the same time. Virtual networking events are an excellent way to enlarge your professional or brand network. 
Tool 9 for Event Planning: Wonder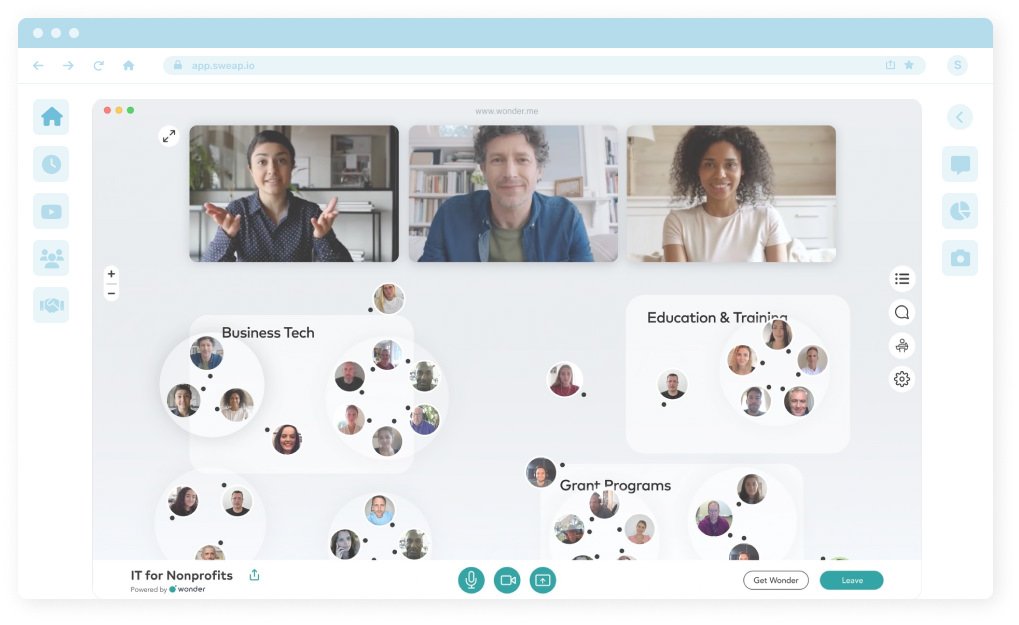 With Wonder, you can host virtual events that motivate people to come together. You'll also get a virtual room ace to make conversations natural, fun, and spontaneous. Features include text chat, broadcasting, icebreakers, etc. Use Wonder and bid farewell to video call fatigue.  
The tool automatically creates a virtual space where guests come together to interact in a natural and energizing way, according to the company itself. Besides enhancing collaboration and engagement, Wonder is currently free and fully integrated with our Event Efficiency Platform. 
Advantages 
Advanced online-networking 

Allows in-between networking, group collaboration, and chats 
This tool is currently free 

Wonder now also works on tablets 
Disadvantages 
Community Building Event Planning Tools 
A good tool will help you build your community and boost revenue. Community building tools enable you to promote your network and reach your audience. 
Tool 10 for Event Planning: Tribe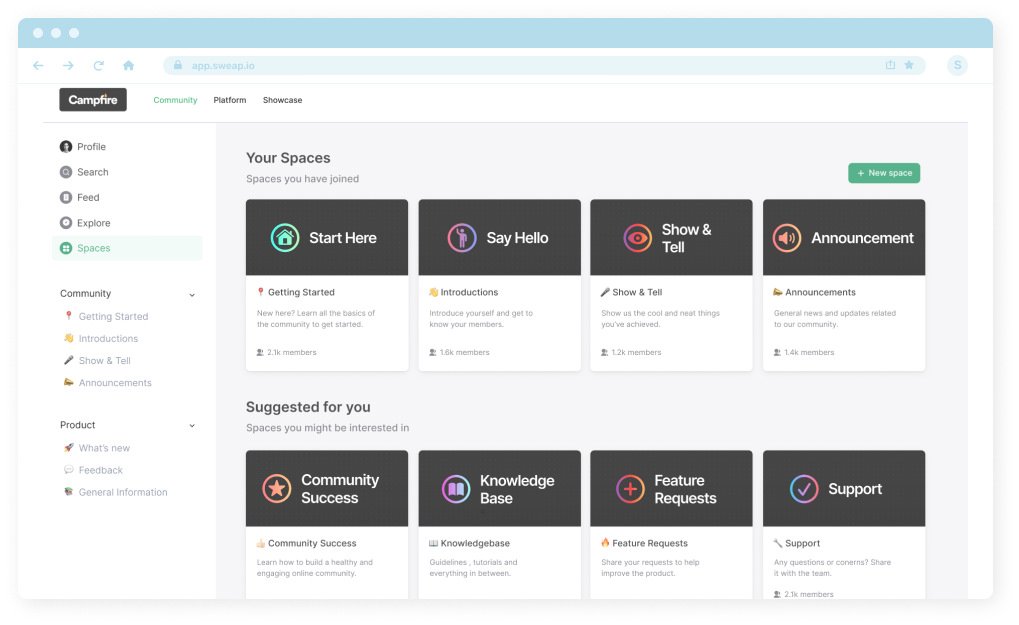 Closing our list of top 10 event planning tools is Tribe, a community platform that allows businesses to build a community or loyal base of customers/followers around their event, service, or product. An integrated community platform to enable you to build a community around your event, product, or service. You can, indeed, bolt-on your existing website and create an integrated or stand-alone community with it. 
Tribe is a highly customisable tool necessary to connect with your following base, collect feedback, and keep them updated about your company and overall industry news. 
Users can also make videos, write articles, post pictures, and ask your community questions. Features include time series analysis, software themes and layout, domain name mapping, etc. 
But despite its numerous integrations, some argue that its customisation is mostly limited to colour and design. All the same, Tribe can help create buzz around your event, driving more registrations. 
Advantages 
Customizable 

API, Apps, and widgets 
Disadvantages 
Difficult to use on mobile 
Which Event Planning Tools Are Right for You?
So, it all boils down to Sweap for marketing and hosting your virtual and in-person events, Miro, HubSpot CRM, Guestlist management software, Canva or Adobe, Slido, Ecamm Live,  Wonder, and finally, Tribe. 
Leverage the power of these ten event planning tools to step up your event planning game. In a digital age where nearly everyone is digitally connected somehow, it would be more of an excuse rather than a reason not to create successful, digitally-enabled events. Be sure to check our blog for more insights and the latest industry updates. 
If you have any questions, please don't hesitate to contact our sales team.
Recommended for you