Dynamic Builder for Flexible Event Websites
All too often, event web builders are static and inflexible. Frankly, that includes our previous Web Builder which we knew didn't always meet our high standards. That's why we threw it out of the window and started again. And boy, are we glad that we did.
Simple-to-use yet flexible; purpose-driven yet dynamic – our new Web Builder are already making event professionals' lives easier.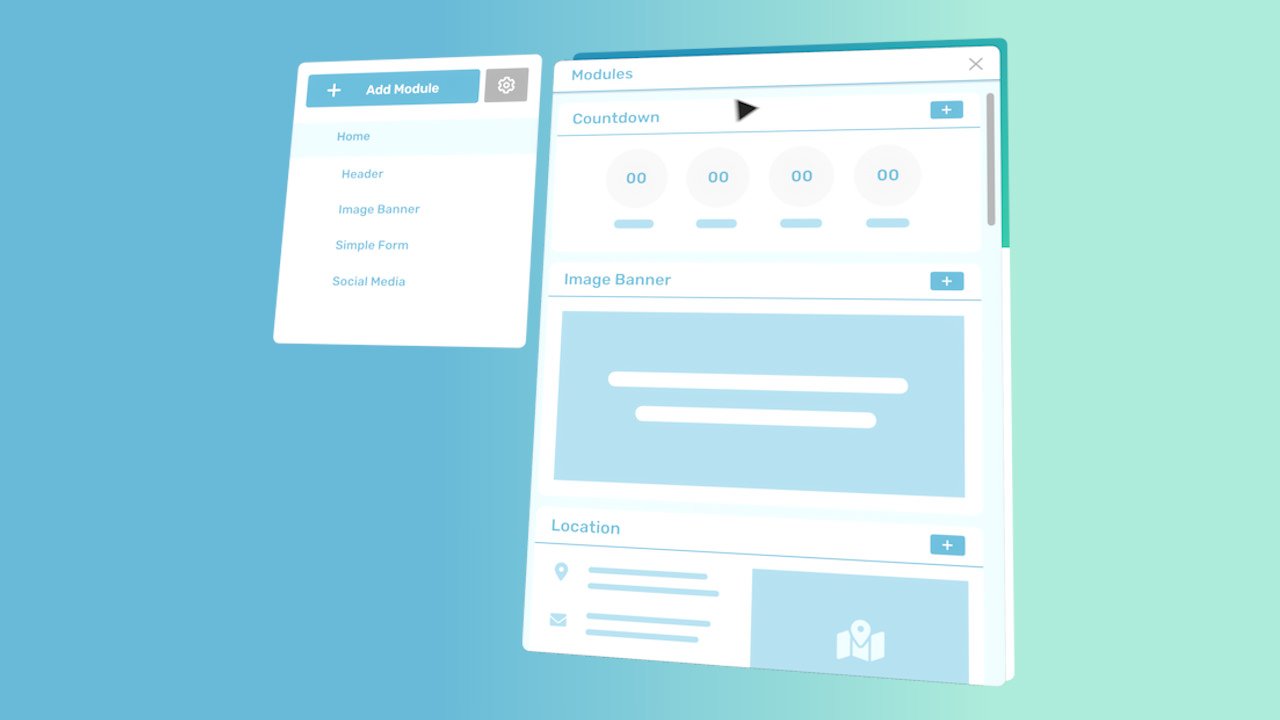 Gone are the days of frustrating static pages with no room for flexibility. Gone equally are the days of ugly unintuitive Web Builders wherein users get lost amid the poorly explained, poorly laid-out options. The Sweap Web Builder is the perfect Goldilocks solution for busy event professionals who take pride in their work.
It's pretty, it's dynamic, and whether you're looking to build appealing event registration pages or engaging virtual event platforms, you'll find our new Web Builder meets your every need.
Let's dive into each in more detail…
And remember, nothing is set in stone – the Sweap Event Efficiency Platform has all the capability to customise these sections to your heart's content post-completion.
The Sweap Website Builder for Event Registration Pages
Drag & Drop | Total Flexibility | Dynamic Live Previews
The importance of an impactful, sleek, and appealing registration page should never be underestimated. A great registration page can be the difference between a buzzing packed-out event and an empty hall inhabited only by tumbleweeds. Our previous Web Wizard registration page might have lacked in flexibility and was overly clunky. Our new Website Builder is slick, easy-to-use, and customisable – tailor-made to drive invitee-to-attendee conversions.
The new registration page Web Builder allows event professionals to put together fully flexible event registration pages in a flash through pre-made yet customisable blocks. These blocks include sections like Headers, Social Media, and the Registration Form itself – the text and style of which can be edited in just a click.
These blocks can be moved around simply by dragging them on the left sidebar. This allows you to prioritise the aspects of your registration page that befit your event. If your keynote speakers are industry superstars, simply click-and-drag this section to the top to catch readers' attention early. Perhaps your program or schedule is its own superstar? Prioritise that instead to transform invitees-into-attendees.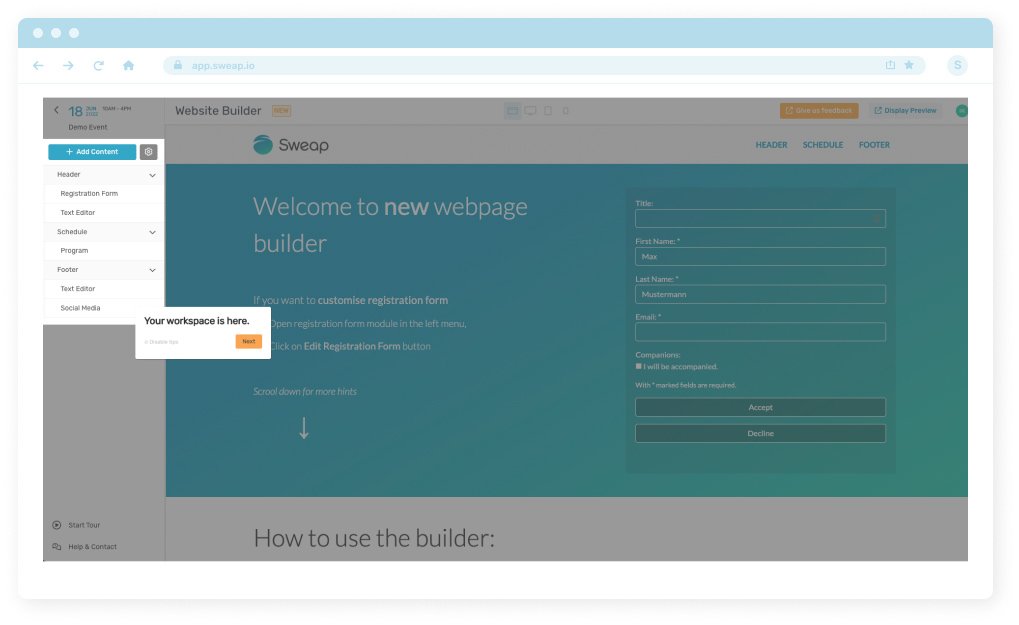 It's an intuitive design created through the cooperation of web-design experts and event industry pros. Absolutely zero coding or web-design experience is required to use it, and it even comes with an in-built guided tour. That said, further customisationand the creation of bespoke sections is indeed possible either via blank templates or our custom coding sections (with the capability for CSS, JavaScript, and HTML).
Arguably the finest feature of them all, however, is the persistent live site preview. Every tweak and change you make will be shown in the background where a real-time preview of your event registration page will always be visible. Furthermore, by switching between icons at the top of the page, you will be able to preview how your registration page will appear on mobile, tablet, laptop, and monitor. This preview can also be shifted to full-screen mode to see the registration page as a customer would.
What are you waiting for? Out with the old and in with the new!
The Sweap Website Builder for Virtual Event Platforms
Fully Modular | Fully Flexible | Fully Sweap
You deserve to run your virtual event your way. With our new Virtual Event Platform Web Builder, you're the boss and you're in control. With an easy-to-build design featuring never-seen-before customisation, you can ensure that your virtual event not only runs smoothly but leaves your attendees blown away.
Minimalist and slick or jampacked full of features? The choice is yours. While premade templates are available, you can build your event platform piece-by-piece – choosing which features you'd like to include and dropping in the corresponding customisable modules one-by-one.
It's down to you to unleash your creativity and create something spectacular. The degree of customisability will give your attendees the impression you've built it all from scratch, but you'll know the truth…just how easy it was.
The intuitive design is ready-made for those with no prior web-development expertise. Simply choose the modules that work for your event, customise them, and drag them to where you want them.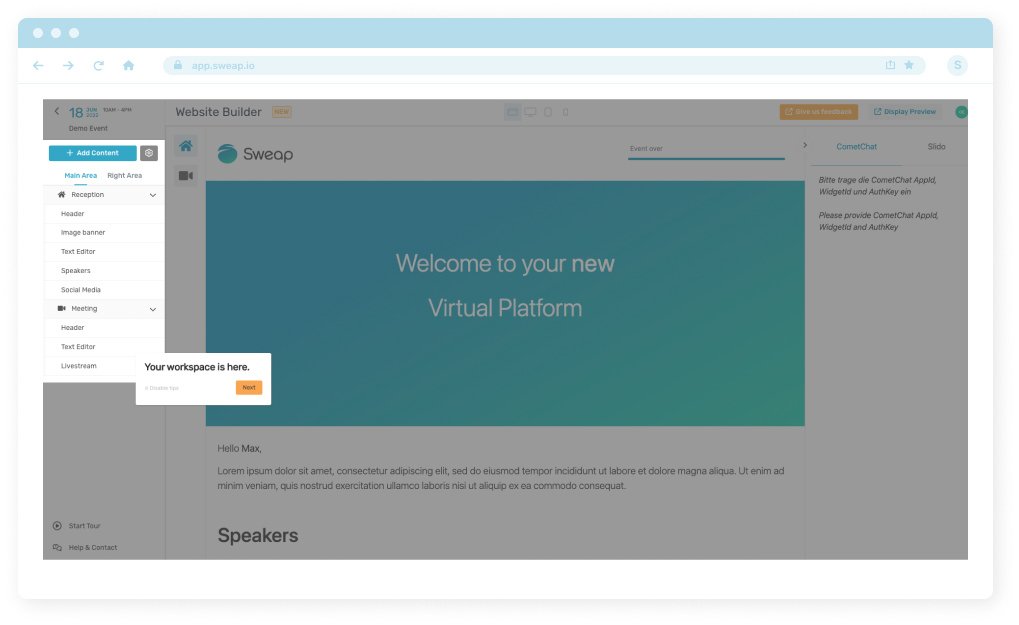 Just as with our registration page builder, there's an inbuilt explanatory "Start Tour" button to guide you through the process, as well as a "Help and Contact" button leading to short step-by-step blog posts to help you make the most of the technology.
There are dozens of tried-and-tested modules to choose from, and we're still making new ones such as our just-added Enhanced Gallery module, our ready-to-go FAQ module, and our new Media module. Each module is fast-activated and smooth-running. The entire site is automatically live previewed in the background, and users can also switch between device screen type previews.
Make your next event an unforgettable one…