TEDME is a tool that aims to increase interaction with your participants: Features include chat, voting, elections, Q&A, evaluations, feedback forms and knowledge games. In real-time for virtual, in-person and hybrid events.
With TEDME you can activate a chat for your participants. This is just as visible as the features "Ask question" and "View question list" in the Q&A sessions and appears as a button at the bottom for the participants.
If participants want, they can open and close the chat with only one click.
Additionally, private 1:1 conversations with other chat participants are also possible.
Benefits of TEDME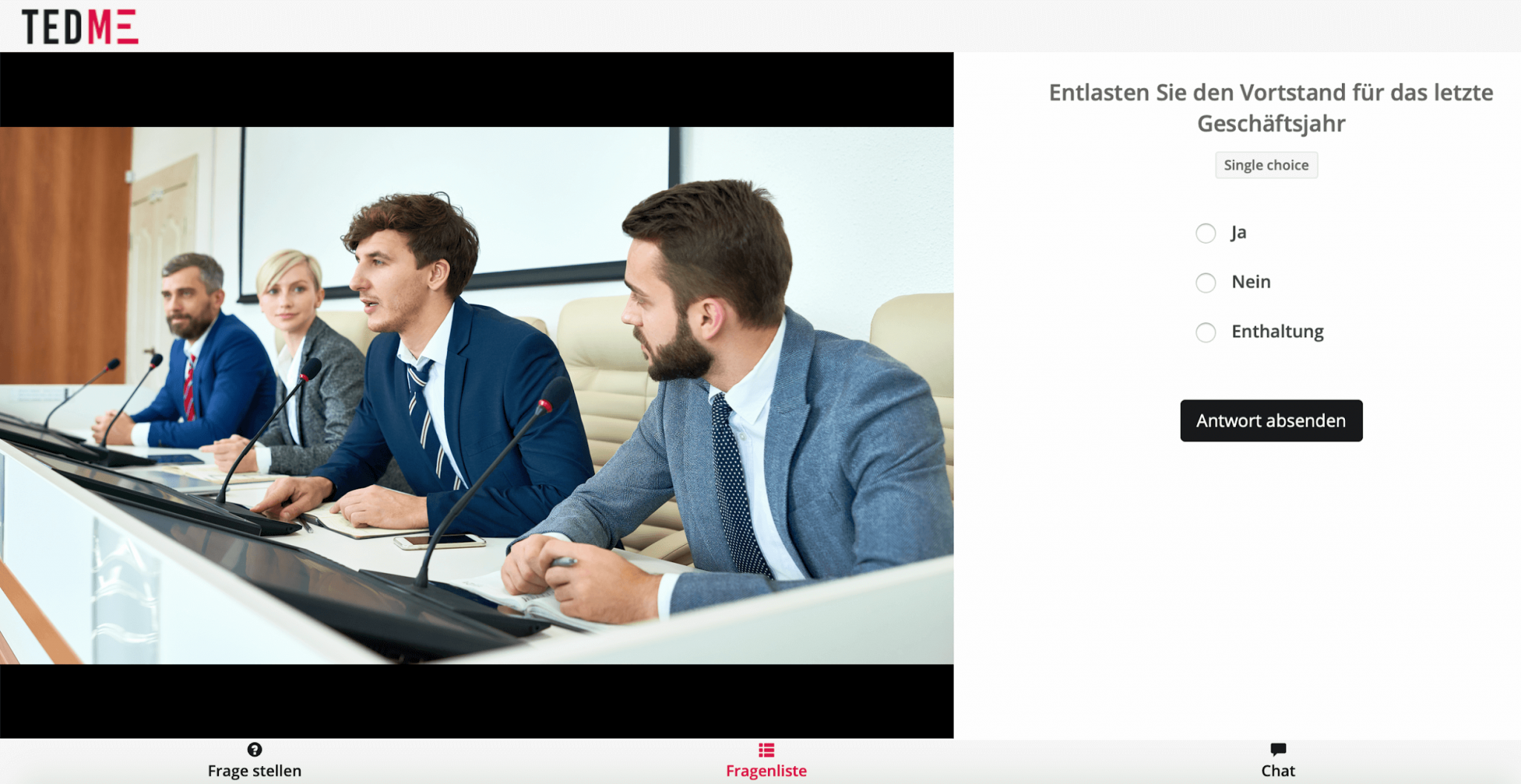 No app, no plugins, no download, 100% browser-based.

API and individual CSS customizations for individual customer CIs.

Easy stream/ zoom/ webex integration into TEDME.

Webinar feature with slide delivery for interactive remote lectures and training.

Role concept: Separation between customer admin, project admin, pure moderators, and co-presenters.

Moderator management: Project administrators can invite moderators to give presentations with integrated voting on their behalf.

Presentations in real-time: The presentation slides are presented to the audience in real-time at the time when the speaker is addressing them. The entire set of slides is not transmitted to the audience during the presentation, thus preventing the audience from skimming through the slides themselves, which would reduce their attention to the live presentation.

Data security: Main server and substitute server are operated 100% in Germany with ISO certified providers.
TEDME Q&A
Lectures and congress events with audience discussion

Easily involve your audience in your presentation - online, offline or hybrid.

Make your audience your team and work actively with them.

Audience members can enter their questions to the moderator completely anonymously or optionally (if desired) with their names.

There is also an optional co-moderation in which the questions can be filtered, edited and also answered.

The list of detailed questions of the audience questions can be viewed by all participants and rated with smiley.

Maximum simplicity for presenter and audience!
Data Transferring
Sweap does not directly pass on any personal data. They are only transmitted when the user deliberately calls up the integration. This usually includes a unique ID, surname, first name and possibly an e-mail address.
Use Cases of TEDME
Virtual Events: Simply combine your Zoom or WebEx meeting with TEDME

In-Person Events: Engage your audience - enable participants to share opinions live
Contact
You can create a free TEDME account here.
More about votings and polls with TEDME: https://tedme.com/voting/.
Trailer TEDME for Digital & Hybrid Events: https://youtu.be/YFui4FApAYo