Event Registration Software
Event Registration Software:
Get More Event Guests
Create an event registration process that converts contacts via e-mails, landingpages and targeted communication.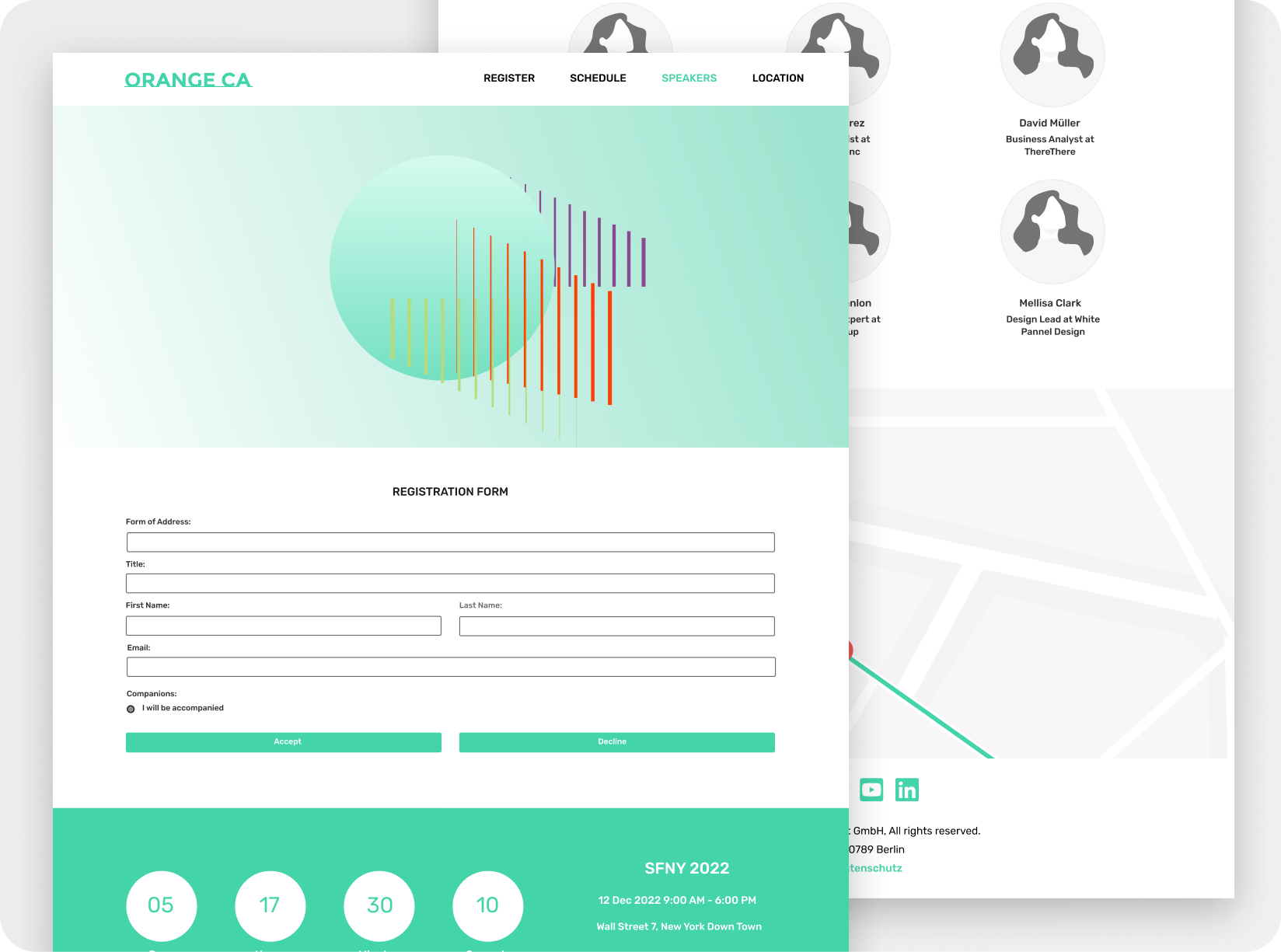 Event teams that trust Sweap
5 Reasons Why You Should Use
Event Registration Software
1
Get
more registrations
Event registration tools are designed to reach high conversion rates. This means that you'll convert a higher percentage of users that come across your landingpage into guests. Additionally, most tools give you access to features that'll help you drive more registrations, for example e-mail marketing campaigns.
2
Registrations turn into
organized guestlists
Event registration tools like Sweap can convert registrations into structured lists with automatic tagging. That way, you'll be able to analyse your event marketing quickly and send targeted communication to your guest segments.
3
Make
data-driven
event marketing decisions
With an event registration solution, you'll be able to analyze which pages convert and which won't. Also see if certain guest segments convert better than others and which guests actually check-in to the event.
4
Build registration flows
without code
Event Registration software can be your one-stop shop for putting on event registration pages. With simple and intuitive tools, you can build your page without writing code. Leverage the power of a simple and intuitive drag-and-drop builder!
5
Save tons of time
in your event marketing processes
Tools like Sweap makes event registration simple. You can create a new registration page in minutes or give your colleagues the ability to create and manage their own registration page. By connecting event registration to guestlists and email communication, it's easy to create event workflows.
What Sweap's
Event Registration
Software
Looks Like
Create beautiful registration pages. Quickly.
Get Rid of Manual
Low-Value Tasks
Tired of spending weeks to set up your event marketing assets? With Sweap you can just choose from a variety of templates and quickly set up communication and guest management processes around your event registration.
All the event marketing integrations you need.
Connect Sweap to
Your Tech Stack
Connect all your existing marketing & CRM tools to Sweap to instantly transfer data from your event registration to the rest of your tech stack.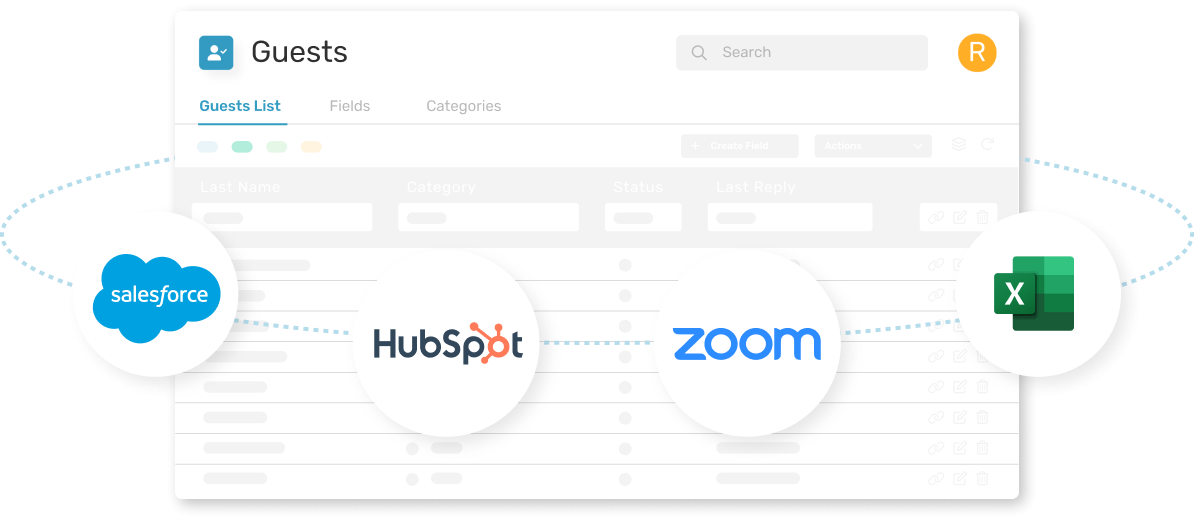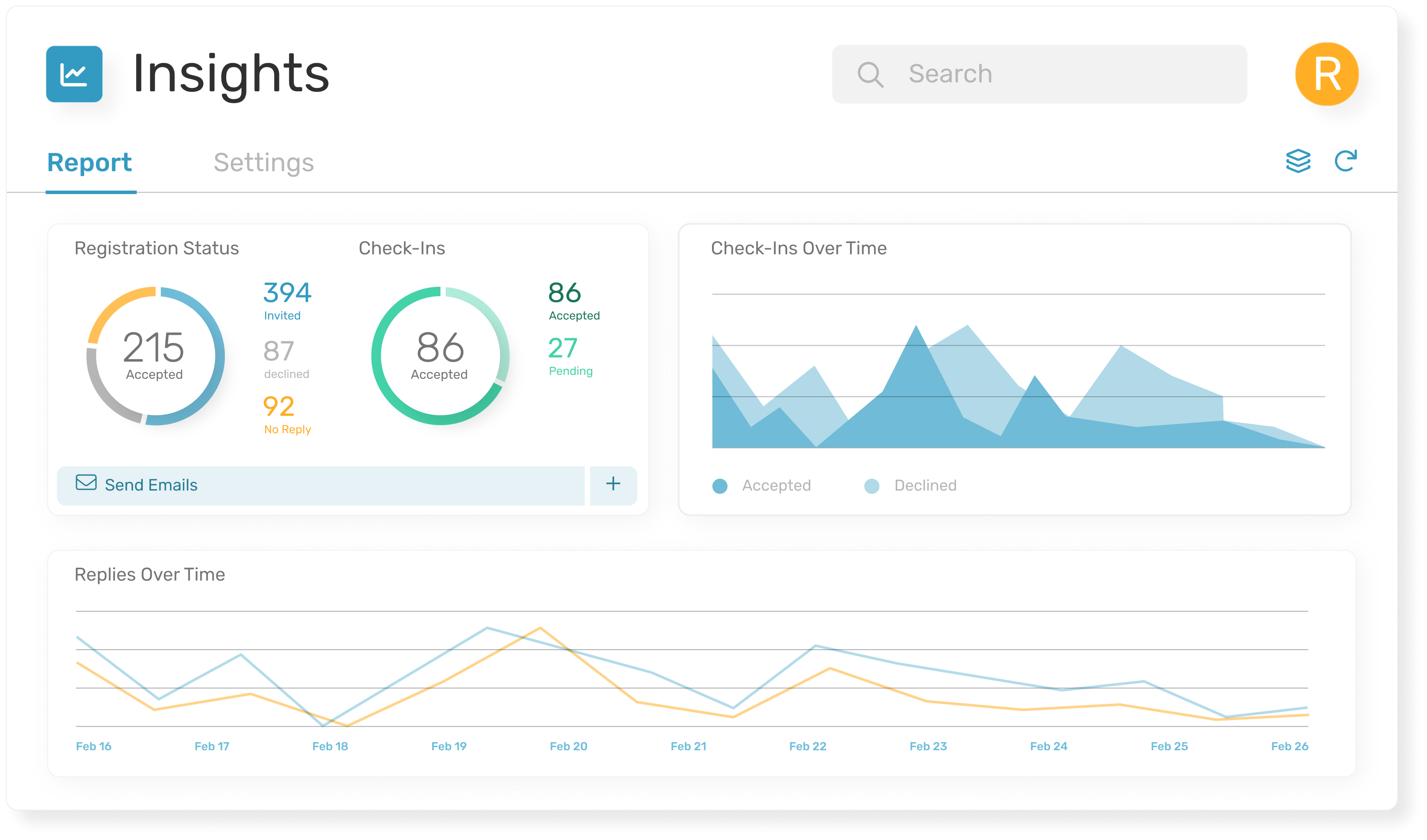 Event registration data. Visualized.
Get Better Insights
About Your Registrations
Never fly blind with Sweap! Sweap gives you access to a detailed dashboard that allows you to track event registration data for different campaigns and guest segments.
Better design. Better results.
Stunning
Registration Pages
Sweap has a library of beautiful registration page templates for every occasion. Our pages are designed and tested for high conversion rates.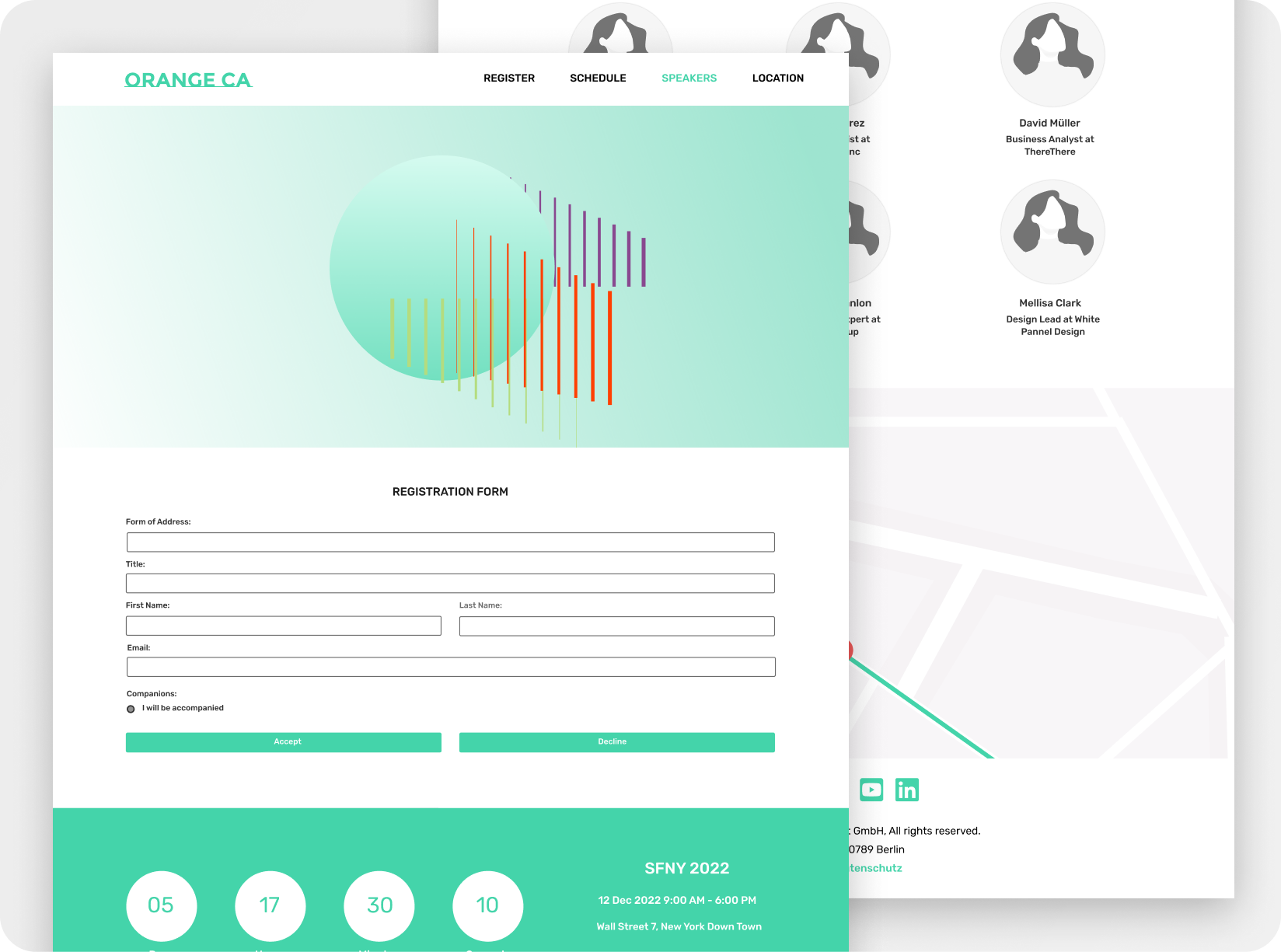 The tool for your events
Why Pick Sweap As Your
Event Registration Software?
Most event registration and event marketing tools are limited for 2 reasons:
Reason 1
Their features are limited to the marketing of the event and not connected to guest lists.
Reason 2
They don't offer a lot of features for post-event engagement.

Sweap fixes both of these problems. Sweap's features are deeply connected with each other, which makes it easy to automate event processes.
At the heart of this connection is the industry-leading guestlist management, which acts as the central hub for registration and communication campaigns.
In addition, Sweap not only covers pre-event, but also post-event engagement. Most of the value of business events is created after the event.
Therefore it's important that participants are being properly followed up on. Sweap enables this through on-demand content hubs, post-event analytics and post-event communication features.
Our Customers

love us!
Sweap has helped hundreds of companies efficiently plan, execute, and evaluate their events. Learn how real companies have used Sweap.
Our experience was that Sweap saved us a lot of time - in the run-up to the event as well as at the evening on site. In addition, Sweap makes our appearance much more professional, both in direct communication by e-mail and through the website construction kit.

Eric Weik

Hauptgeschäftsführer, IHK Mittleres Ruhrgebiet
With Sweap's invitation management we were able to optimise the design of our event invitations as well as increase our need for flexibility. Even the check-in at events has become more professional and easier.

Oliver Ramm

Director of Marketing, Scandic Berlin
How Sweap's
Event Registration
Software
Works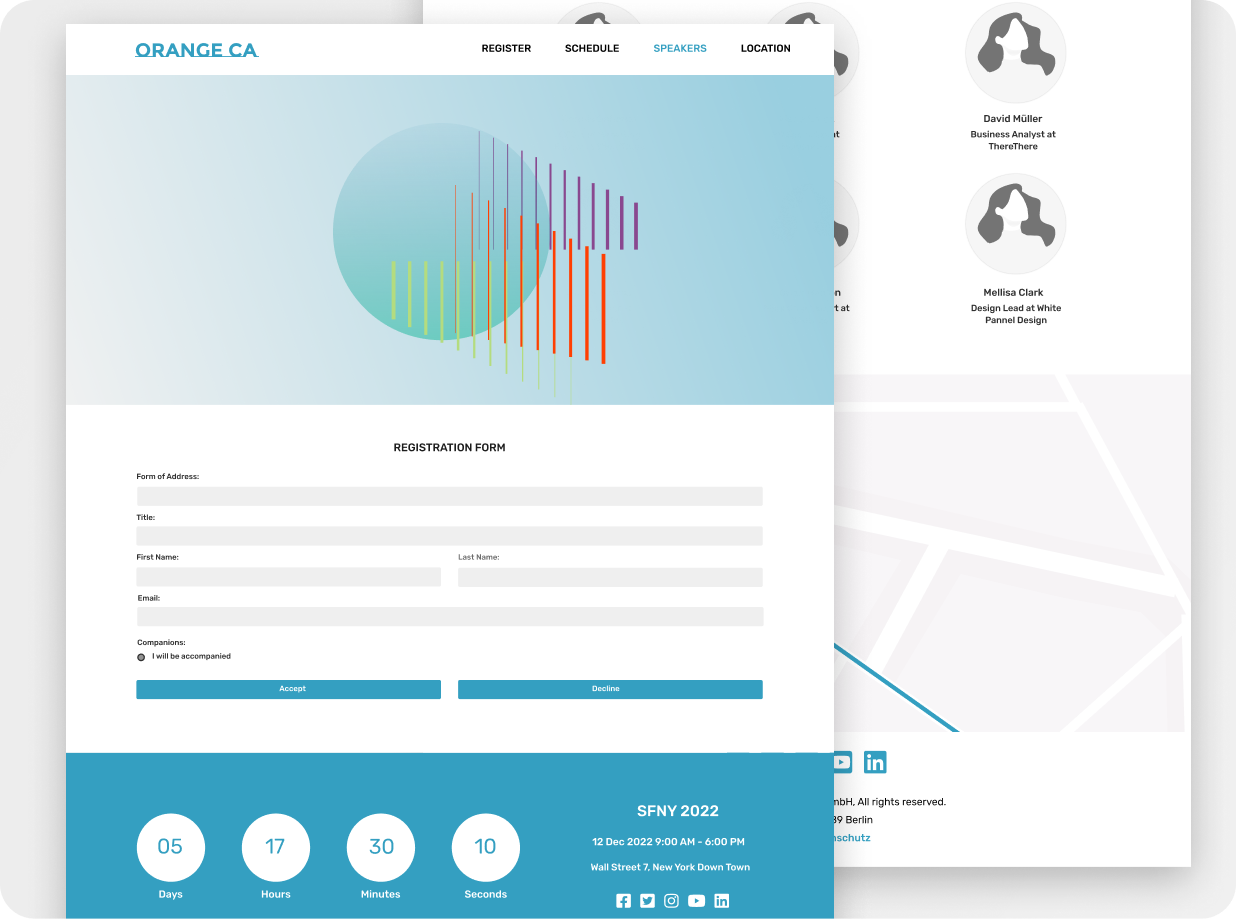 Our registration page templates ensure high conversion rates.
Easily capture registrations that will be automatically organized in enriched guest lists.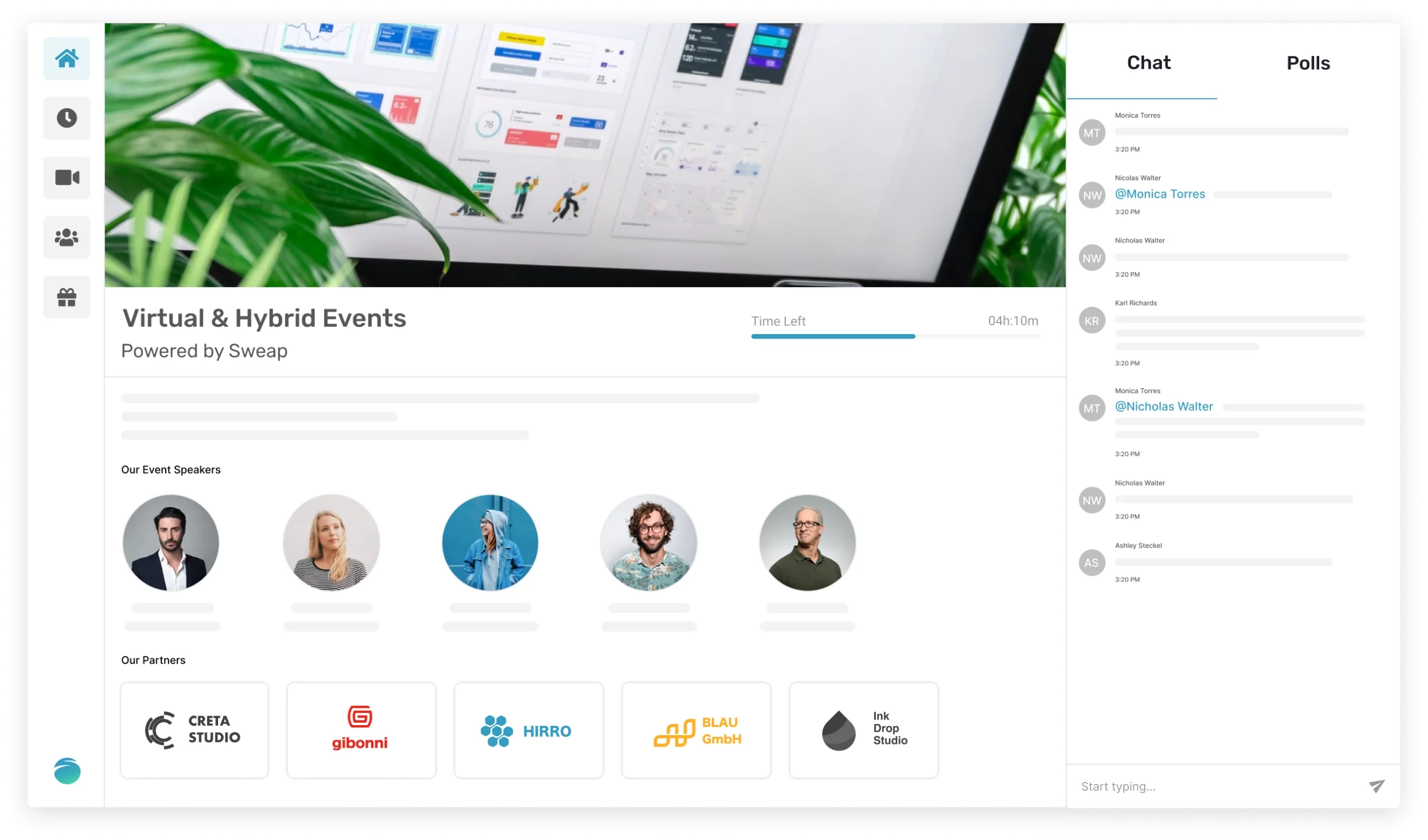 Host your event in-person, hybrid or online with Sweap.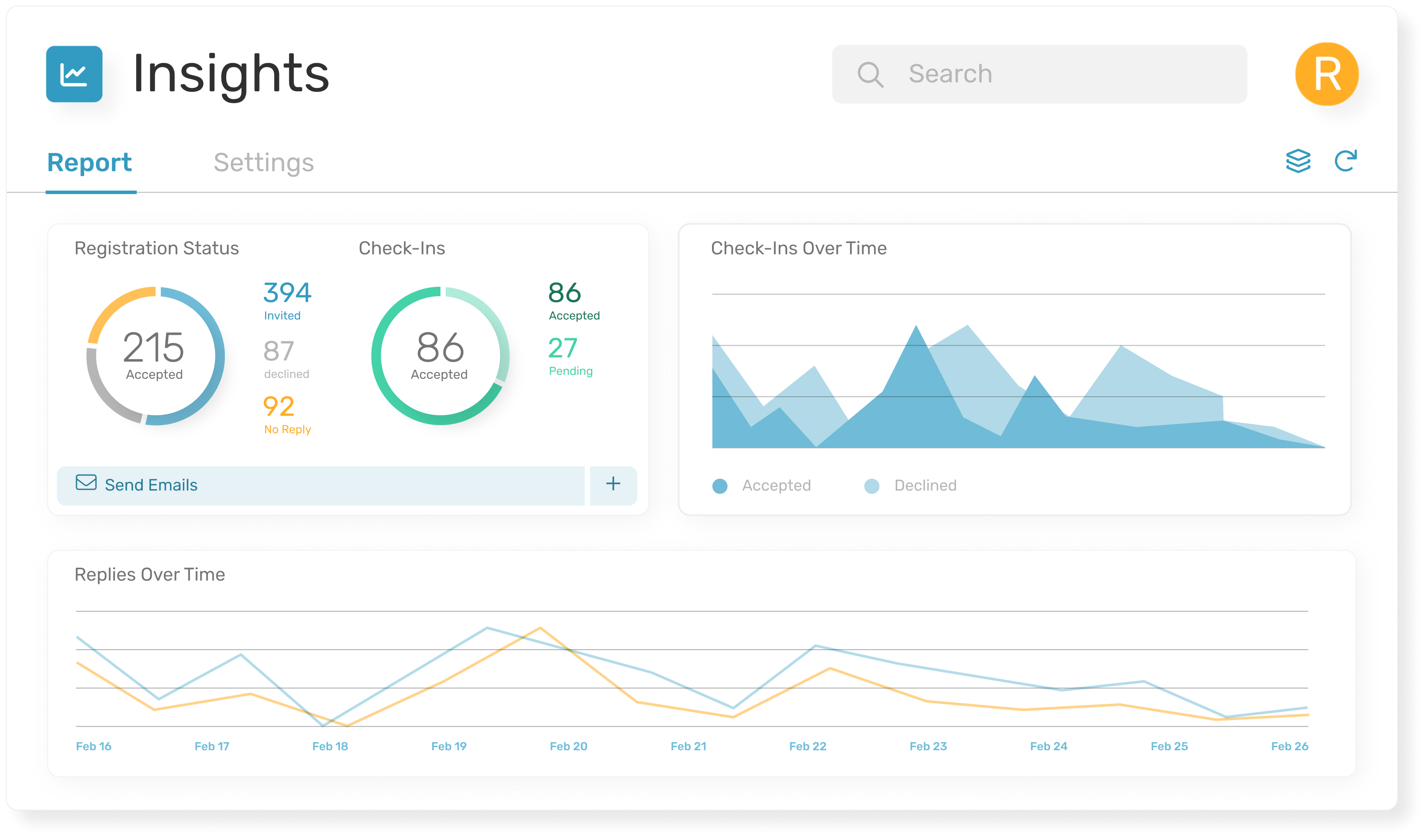 Analyze the success of your registration campaigns. Follow up via email and with content hubs.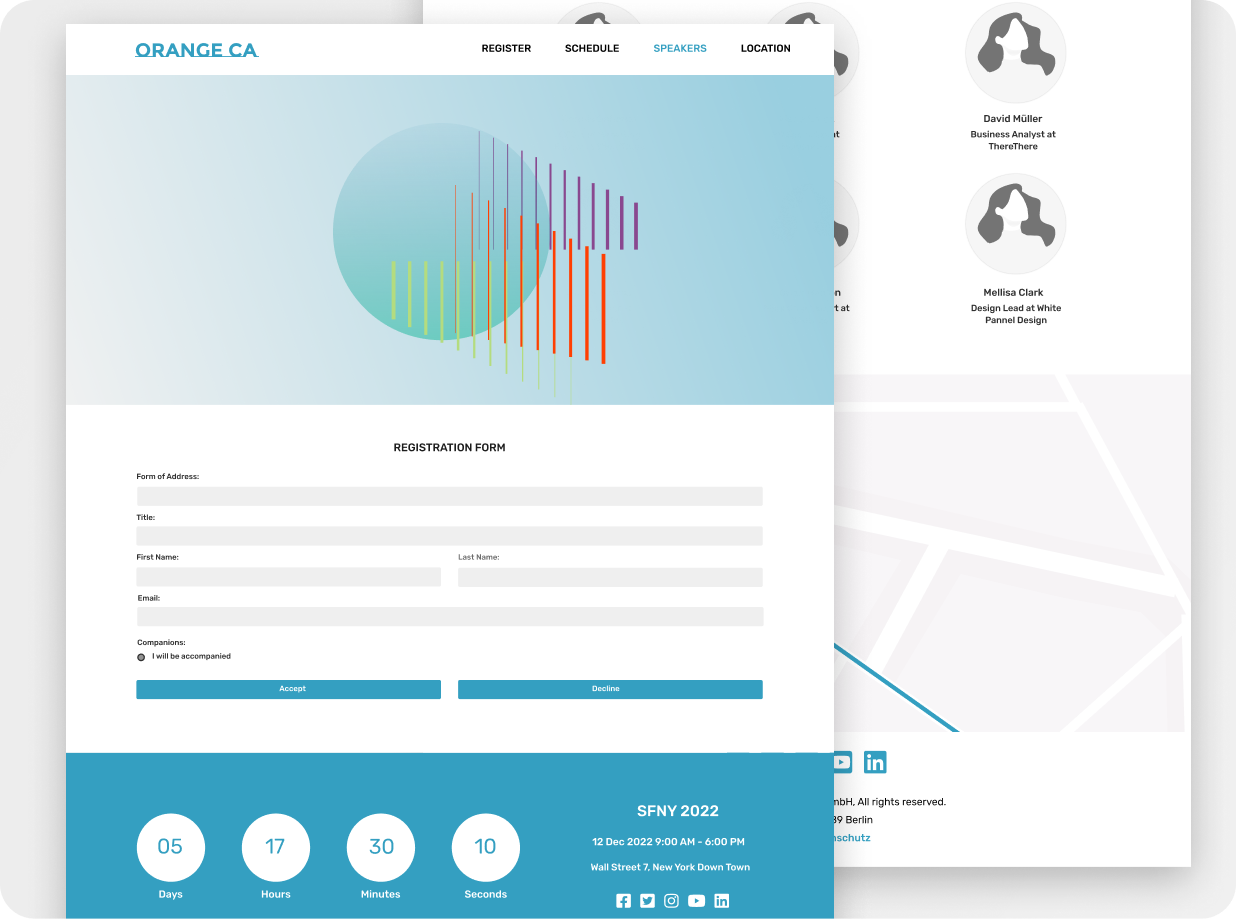 Event registration software is crucial to maximize the results of your event.
Almost every event needs a registration process, but there are a couple of pitfalls that can happen:
registration pages are poorly designed, which leads to less sign-ups

Your registration process is not integrated with other event tasks like communication and guestlist management

You don't get data about your registrations and can't analyze the effectiveness of your registration campaigns

You spend too much time with the event registration software process
To summarize: No event registration software leads to worse results, wasted time and decisions that are not optimized.
Here are some criteria that you can use to choose the right event registration tool:
What does your existing event registration software look like? What do you want this process to look like in the future?

Which features are required for your new event registration process?

Do you want to host your events online, in person, or both?

How many registrations do you expect per year?

Do tools have strong data security standards, e.g. to comply with GDPR?
Event registration solutions start with a customizable form. In this form, you can ask for every information you need, e.g. name, e-mail, preferences, or any qualifying questions.
This form is then embedded in a webpage that should support the form submission with information, social proof, or videos.
Once the form is submitted, the data is automatically transferred into a guest list, where it can be used to communicate via e-mail.
Here's are the key benefits of event registration software:
Create well-designed registration pages that convert visitors into sign-ups

Save time during your event registration process by automating tasks

Analyze your event registration through data and analytics dashboards
Almost all registration software are solutions designed for event professionals. This means that it isn't worth it to use them for private or one-time events. For the investment to fully pay off, you should have an existing event program that hosts multiple events per year.
It depends on the model of the event registration tool.
Sweap's pricing starts at 99 Euros. The benefit of Sweap's pricing: It scales with your registrations, so you are guaranteed to get what you pay for.