Guest List Software
Guest List Software:

Say Goodbye to Manual Data Entries
Sweap's software organizes your guest data automatically and ensures that you stay organized.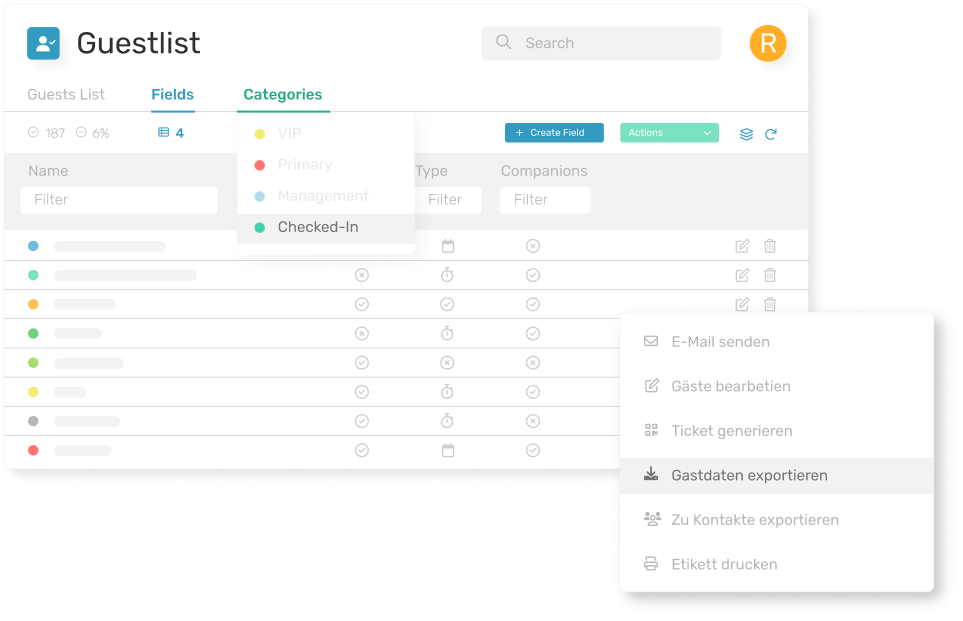 Companies that trust sweap
5 Reasons Why You Should Use
Event Management Software
1
Communicate
in a targeted way
Add tags, categories or attributes to your guest data. You can use this feature to adjust your messages according to the guest data.
2
Trust
your guest data
Manual data entries, e.g. with Excel, are error-prone. Sweap automatically takes care of duplicates and incoherent data.
3
Feel
in control
Get an overview of all your guest data in one place and automatically integrate with your existing CRM.
4
Enrich your
guest lists
With a guest list tool, you can adjust your guest data with custom labels to add more context and information.
5
Make
data-driven decisions
With event management solutions, you can not only check-in hundreds of attendees in-person through an app, but you can also host your events on a virtual venue.
What Sweap's
Guest List Software
Looks Like
Import. And done.
Forget

Manual Spreadsheets
Import your guest lists with ease. Our software takes care of duplication, keeps your data up to date, and organizes your guest data. Manual data entry that takes hours of time is no longer required.
Integrated seamlessly.
Pair Sweap with your
existing tools
Get access to an ever-expanding list of integrations that can be paired with the Sweap event platform.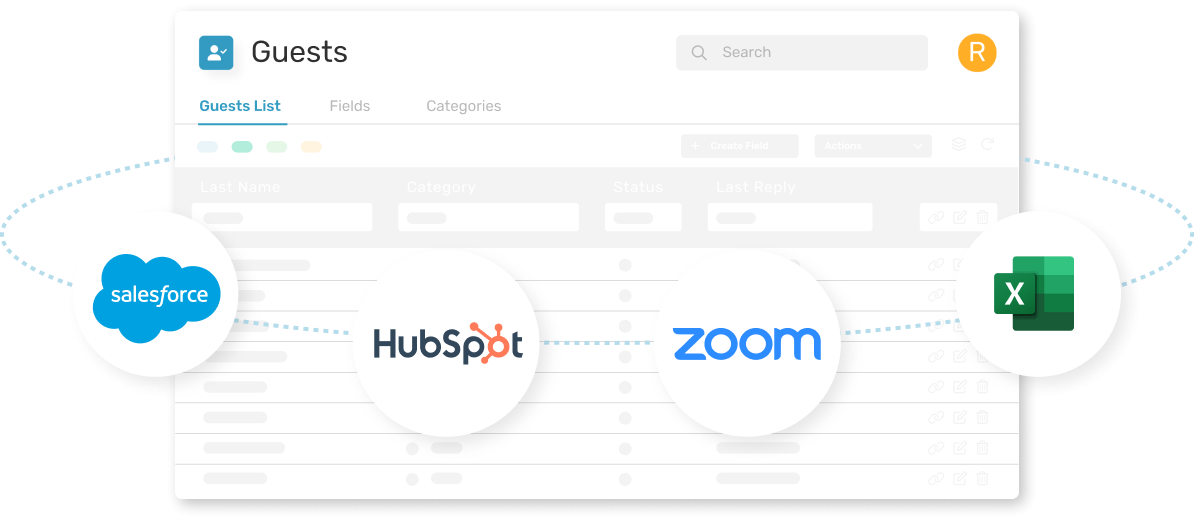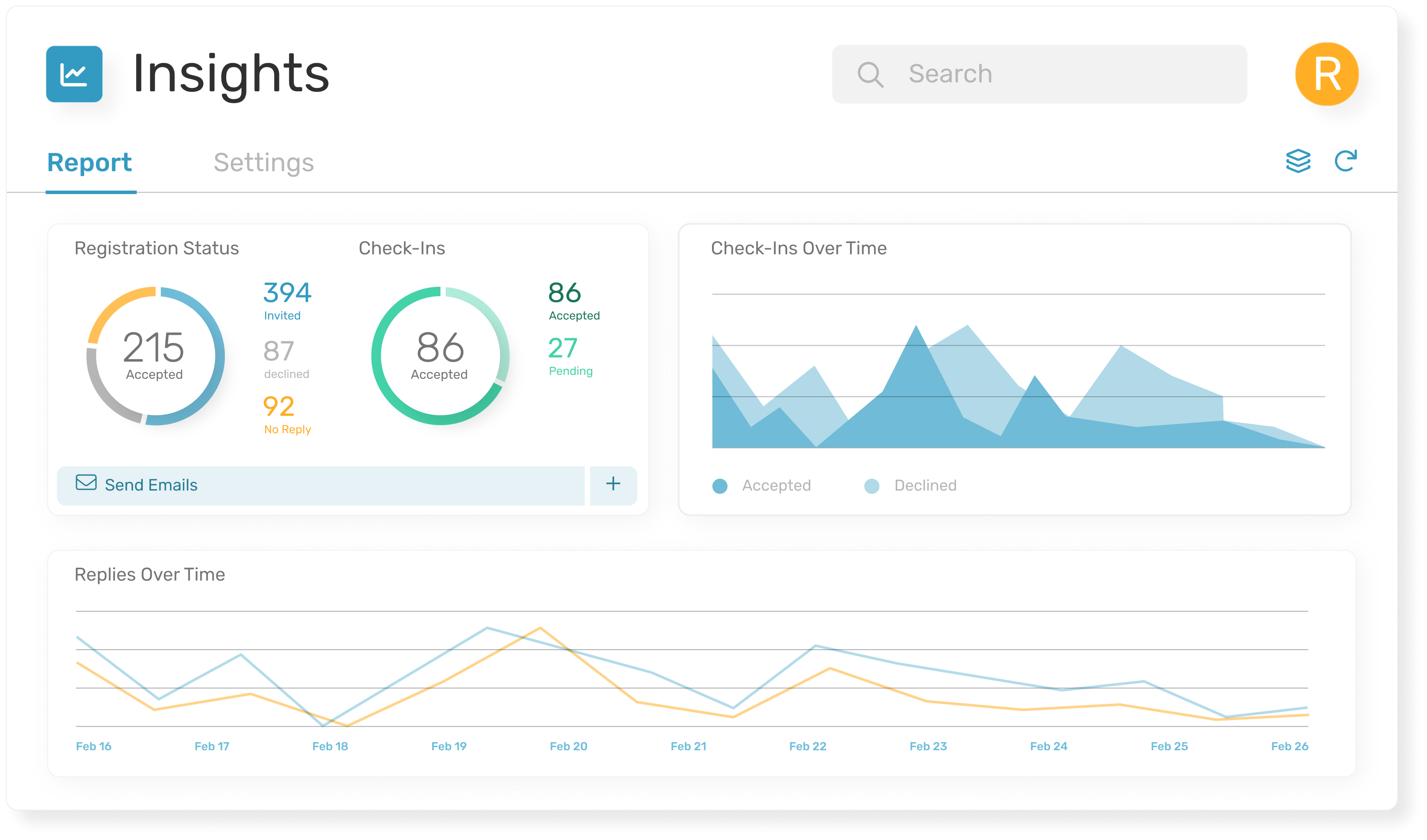 Reports for every event.
Derive Actionable Insights
from your Guest Data
Get access to all your guest data from all your events. Sweap's dashboards provide crucial information to ensure that you always are in control of how your event campaigns are performing.
Engage your guests.
Stunning
Webpages & E-Mails
Your guests expect personalized communication - make sure that your E-Mails and registration pages convert. Choose from beautiful templates to make your event communication stand out.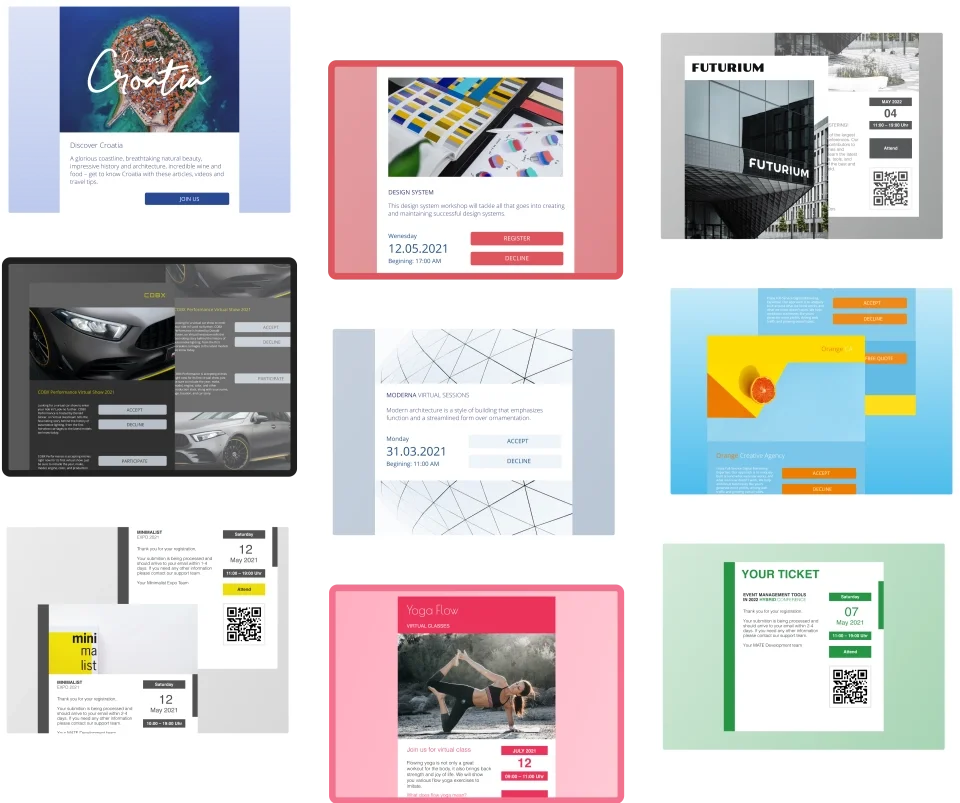 The tool for your Events
Why Pick Sweap As Your
Event Management Software?
Sweap automates time-consuming tasks for event professionals.
Guest List management is one of the most time-consuming tasks of being an event professional. Not only that, manual work leads to mistakes that are hard to identify and fix. In addition, manual guest lists are not well-structured and lack rich data to create targeted campaigns.
Sweap's guest lists solve all these problems. Hundreds of the world's best event teams use Sweap to automate their guest list management. Sweap recognizes duplicates and automatically adds new registrants to your lists. It's also linked to e-mails: Just send e-mails to a guest category with the click of two buttons.
Our Customers

love us!
Sweap has helped hundreds of companies efficiently plan, execute, and evaluate their events. Learn how real companies have used Sweap.
Our experience was that Sweap saved us a lot of time - in the run-up to the event as well as at the evening on site. In addition, Sweap makes our appearance much more professional, both in direct communication by e-mail and through the website construction kit.

Eric Weik

Hauptgeschäftsführer, IHK Mittleres Ruhrgebiet
With Sweap's invitation management we were able to optimise the design of our event invitations as well as increase our need for flexibility. Even the check-in at events has become more professional and easier.

Oliver Ramm

Director of Marketing, Scandic Berlin
How Sweap's
Guest List Software
Works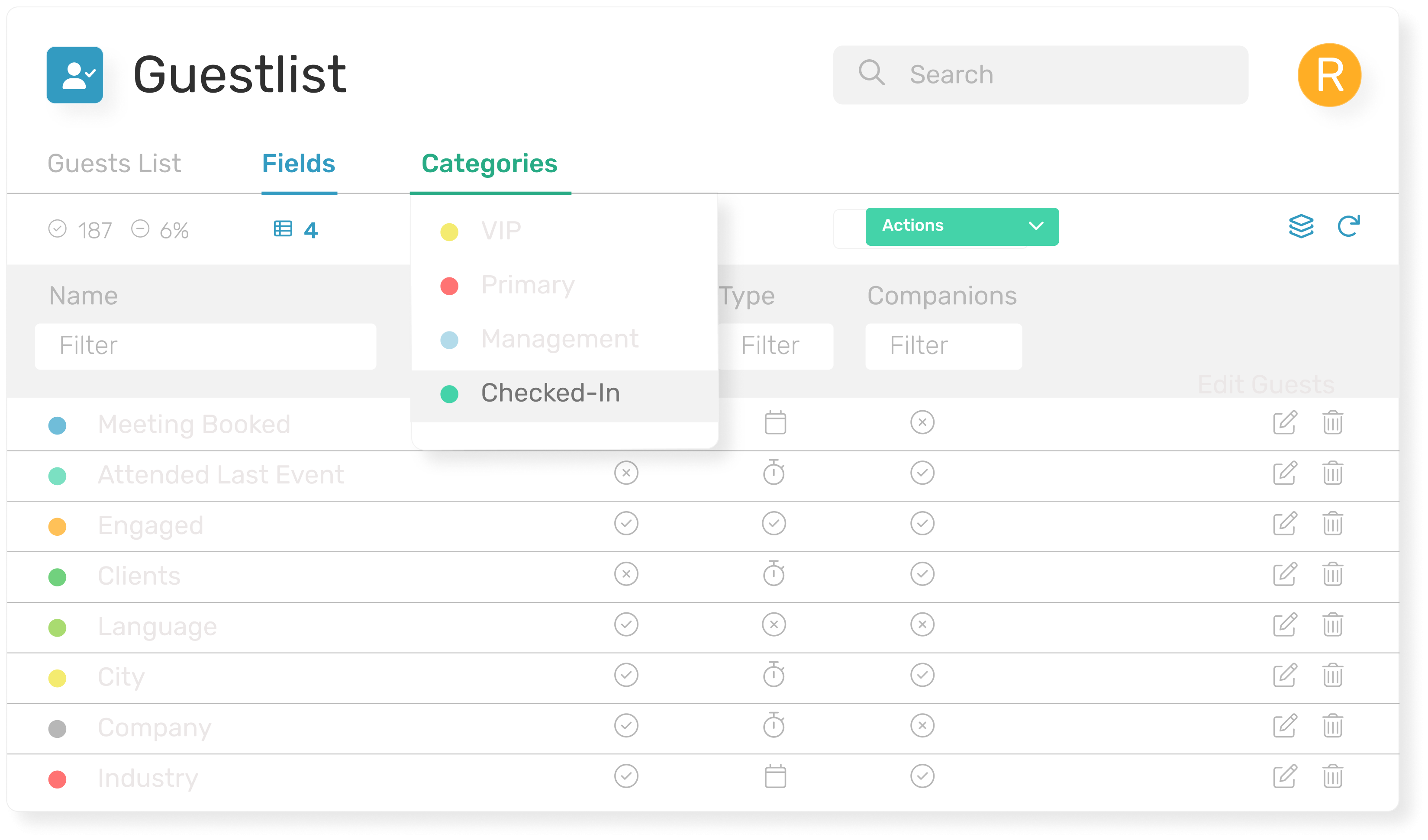 Always keep an overview of each event.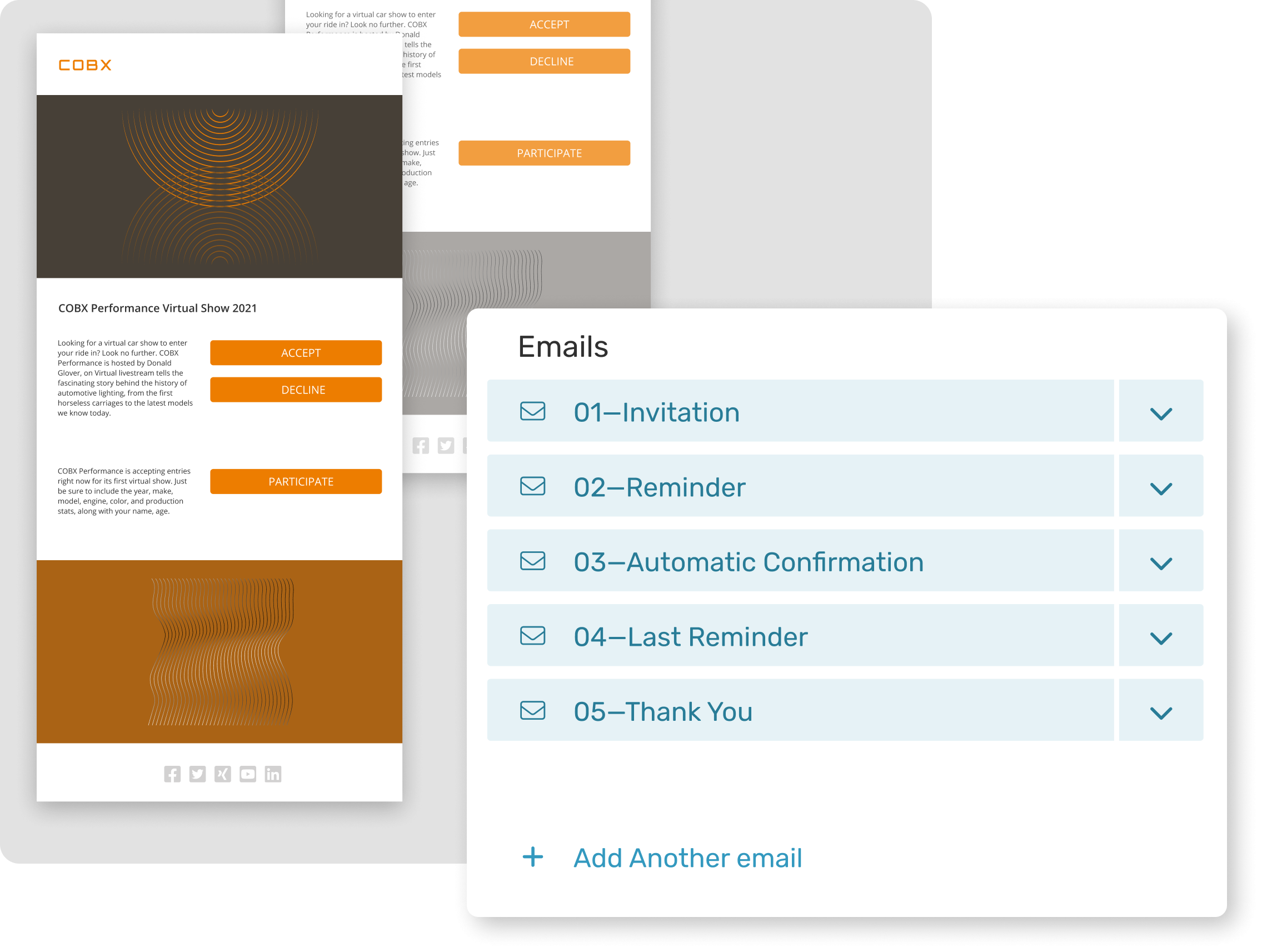 Send invites and other e-mails based on guest categories.
All your guest data in one place for everyone.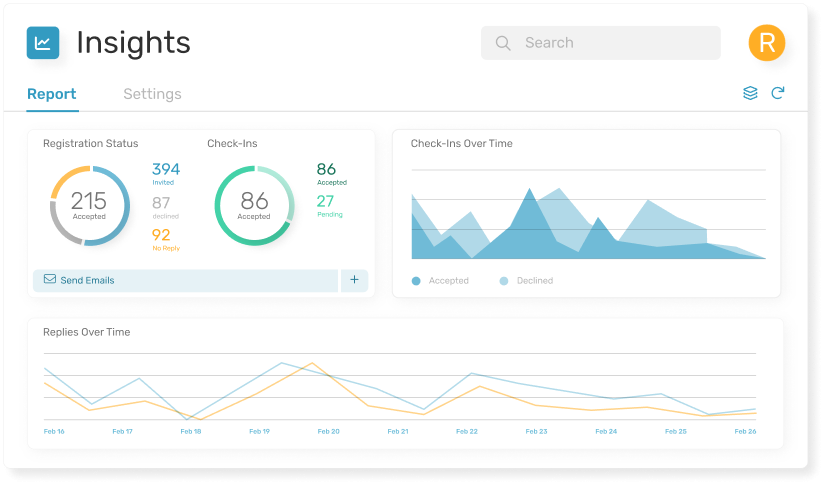 Gain knowledge about how guests interact with your event.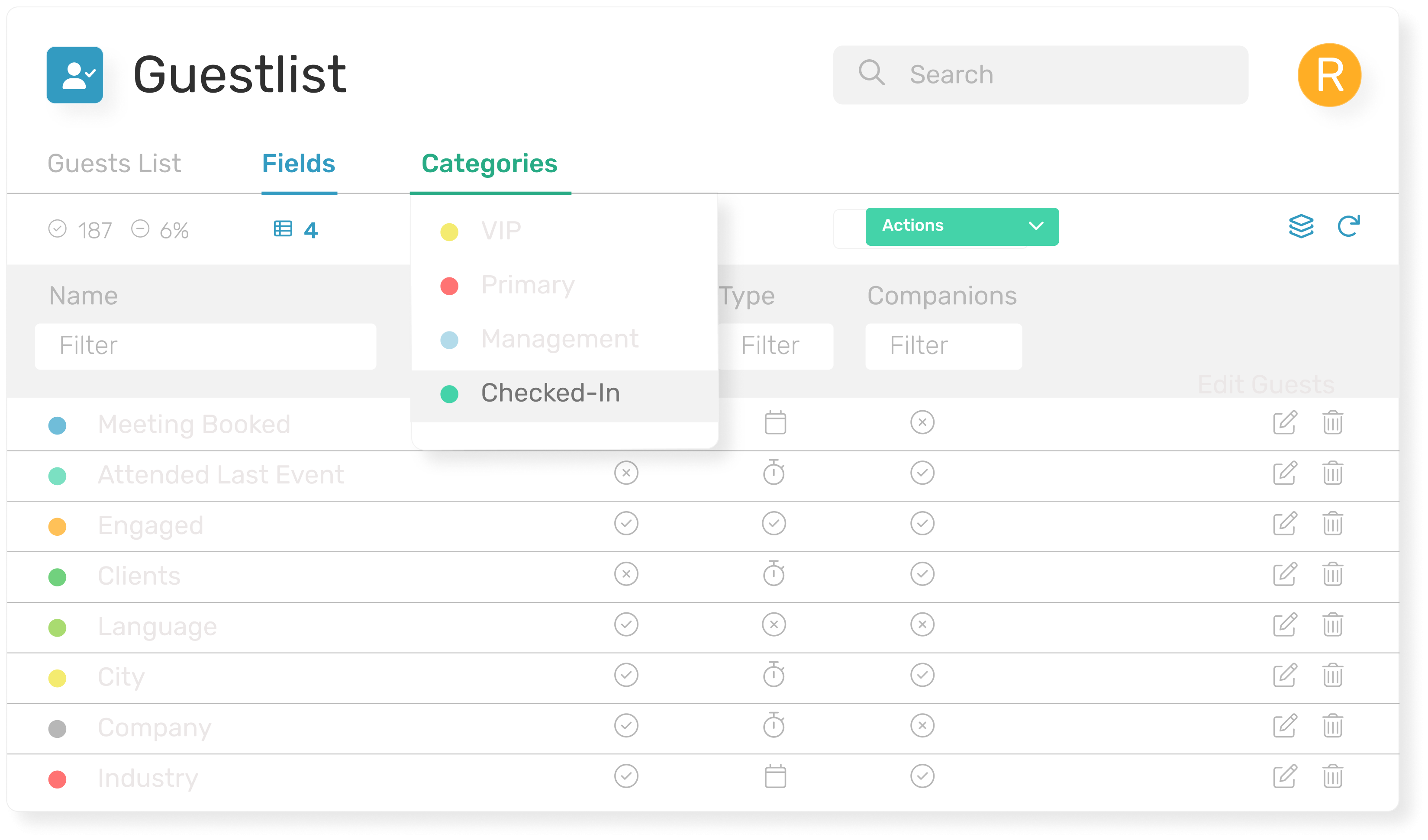 Guestlist management tools help you keep an overview over all data from any type and format of event available at any time and from any location.
You may get meaningful insights for data-driven choices with event and guestlist dashboards.
Guestlist solutions like Sweap allows you to provide multiple roles and permissions to users for smooth cooperation. The planning and execution of an event is a multi-step process, and Sweap was created to help you work more effectively.
There are a few questions that you should ask yourself before you choose a guestlist tool. Then check if the tool of your choice fulfills your needs.
How many guests do you expect per year?

How many events do you want to run per year?

What does your existing guestlist solution look like, e.g. Excel? Can the guestlist software make use of your existing data?

What are important integrations for you, e.g. CRMs?

How many people will be working on your guestlists?

Which insights do you need, e.g. replies over time?
Guestlist software eliminates duplication, keeps your data up to date, and organizes your information. Data entry that takes time is no longer required.
Here is a list of guestlist software benefits:
Save tons of time that you would have spent on low-value work

Get more accurate guest data

Get actionable insights that you can use to improve your event program

Put guests into categories and assign them with attributes and tags to communicate with them in a targeted way
If you run one event per year or only have a small number of guests, the investment into a guestlist software might not be worth it. To receive real value from it, you should deal with hundreds and thousands of guests.