OSPA
Reduces
No-show Rate
by 83%
How the OstseeSparkasse Rostock (OSPA) overcomes challenges of personalized communication at events.
The
Challenge
The successful implementation of several parallel events as part of a hybrid event format that requires personalized, individual communication with different target groups.
The
Solution
The OSPA knew it needed to rely on a reliable and efficient software solution to manage this challenge. Sweap offered personalized communication and a multi-session solution that made it possible to address a broad target group and simplify event planning and execution.
Sweap
License
With over 600 employees, OstseeSparkasse Rostock (OSPA) is one of the most successful savings banks in Germany. With more than 40 branches and additional self-service locations in the Rostock region, OSPA guarantees the best possible service for its approximately 300,000 customers directly on site - at www.ospa.de and also around the clock with online banking. As the largest supporter of the region, an attractive employer and a strong financial partner, OSPA is committed to the topics of sport, culture, social issues, volunteering and sustainability.
Location
Rostock

Industry
Banking

Team size
4 in event team

Website
www.ospa.de

Founded
1825

Events
approx.1000
A hybrid event, 3 days,


over 70 individual events

For Susanne, OSPA's dedicated event manager, the planning and execution of a 3-day hybrid event for the Investor Forum 4.0 was imminent. With over 70 individual events, coordinating parallel sessions and communication between departments was a complex task. The event objectives - customer acquisition, partner retention and return on investment - placed high demands on the event team and required innovative solutions.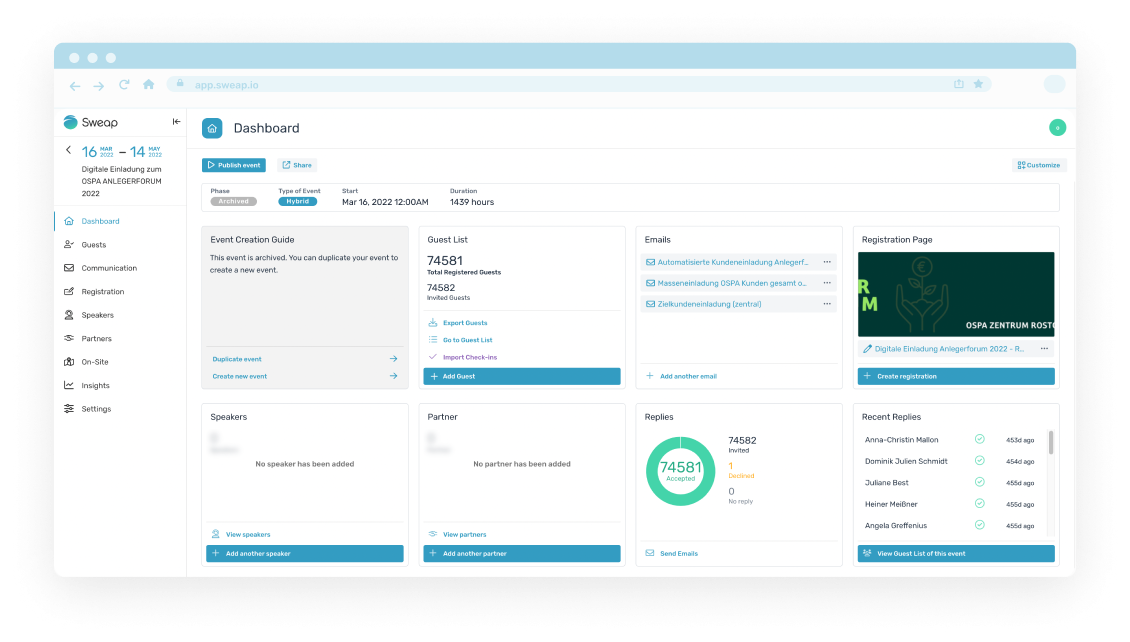 No more fear

of overbooking
In the past, OSPA increasingly had to deal with overbooking at parallel events with a limited number of participants. The solution is to create individual events in Sweap for each event day to provide a clear overview and an automated check-in process. As a result, overbooking was avoided and the event convinces with a professional experience for all guests.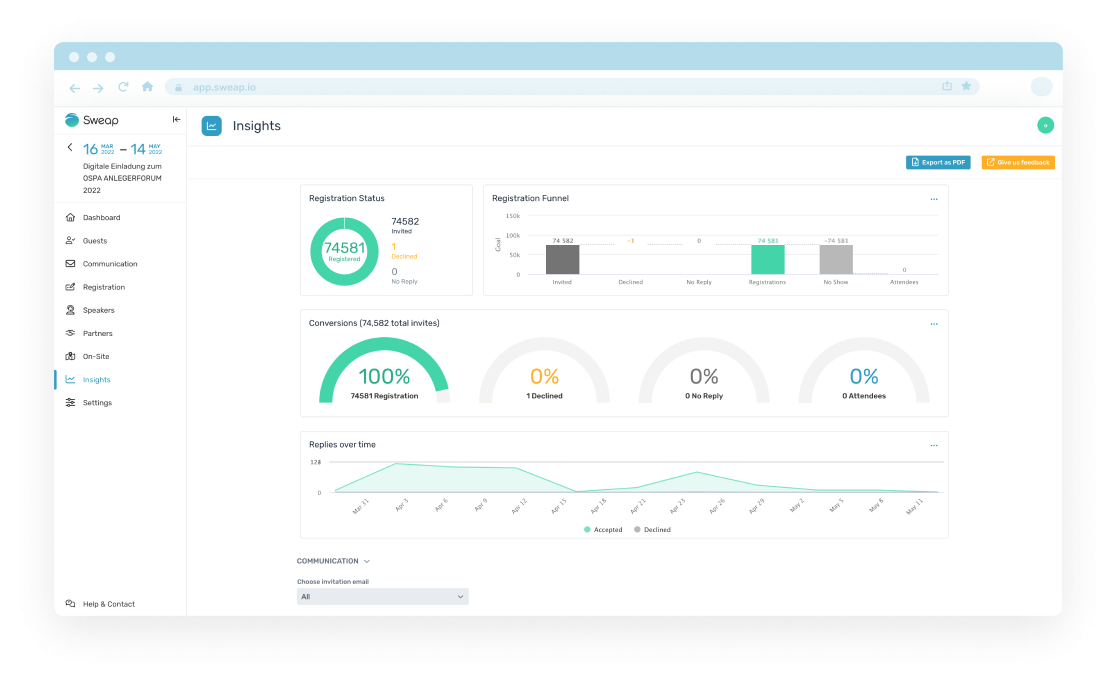 Minimal no-show rate
through automated event communication
To save time when communicating with guests, automation was needed. Thanks to the Sweap Email Campaign Manager, sending emails automatically for the OSPA, the no-show rate decreased by 83% and more time was left for the actual planning. In addition, personalized tokens in the emails allowed for individualized communication with different categories of guests, resulting in higher participant engagement.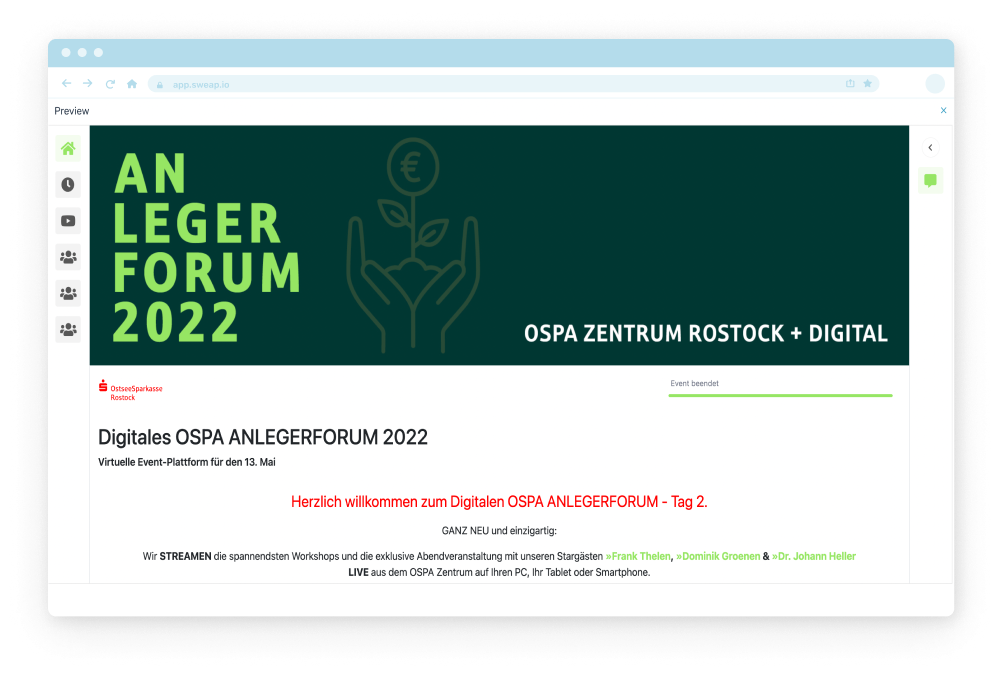 Success through


integrations

Integrating virtual elements into a hybrid event often poses challenges for event managers. Sweap masters this challenge with its Virtual Event Platform. The integration of modern technologies, such as a powerful livestream and chat, creates an equal experience for the total of over 300 virtual guests. By using Sweap, OSPA was able to successfully optimize its events and significantly increase registrations for the hybrid Investor Forum 4.0 event.
A

successful

event with Sweap

The personalized communication and efficient planning of the events helped to achieve the event goals and create a positive experience for the participants. With Sweap as a partner, the OSPA was able to strengthen its position as a trusted financial partner and underline its commitment to the local community.
The Sweap team always listens to my needs and continues to develop and perform. You can use the tool creatively and find the right solution.
Read Success Story

Dr. Susanne Krause

Team Promotion & Events, OSPA Rostock